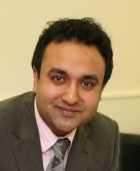 Tooth implant dentist Twyford, Reading, Berkshire
Dr Avik Jonathan Dandapat
BDS(Birm) MFGDP (UK) DipImpDent RCS (Eng)
Avik Dandapat has completed the Diploma in Dental Implantology from the Royal College of Surgeons and passed the examination at first sitting. He has been practising implantology for over seven years now and conforms only to guidelines of clinical practice set out by the FGDP(UK).  He accepts referrals for any case type.
Patient consultations
'Can I have dental implants?'- FREE Preliminary Consultation
Brief visual examination to see whether you could benefit from dental implant treatment and discussion of principal treatment options
Clinical consultation - FREE 
Clinical examination and provision of a comprehensive costed treatment plan
Includes X-Rays
Three dimensional CT Scan £175 ON SITE SCANNER 
Main implant treatments and procedures offered
Implant placement
Implant Restoration
Sinus Lifting
Bone grafts
Ridge expansions
Soft tissue grafting
ID nerve repositioning
Immediate implants
Full mouth reconstruction
Denture stabilisation
Patient testimonials
"Thanks to Avik & his team for giving me my confidence & smile back. I am delighted with the end result & can't distinguish the implant tooth from my natural teeth!"
"Years of gum disease had caught up with me and my denture was a nightmare - I saw Avik and within a few visits I had all my implants placed. It really has changed my life. I now have fixed teeth and can eat and socialise again and not worry about them getting wobbly. I would not hesitate in going back."
Additional information
Implant Only at the Dental Implant Centre in Twyford
Main implant system

Implant case referral policies, procedures and administration
We aim to provide patients an informed journey to have the best possible treatment options available in the market today.
Online referral forms available for Implant and CT scanning at www.DentalImplantCentre.com
Also referral policies exist on the website as stipulated
General dental practitioners are encouraged to undertake the restoration phase of the implant treatment for their own patients in straightforward referred cases.  FREE training in the restoration of simple dental implant cases is available.  To enquire about starting to restore dental implant cases for your patients, please contact BIANKA ON 0800 917 7551