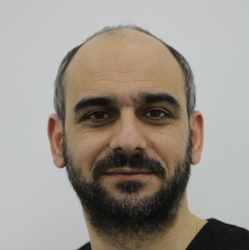 Tooth implant dentist , Westminster, London
Dr Antonis Pisiaras
DDS MSc Implant Dentistry (University of Warwick)
Dr Antonis Pisiaras is the principal implantologist at PS Dental Care.  His main interests include implant dentistry, aesthetic dentistry and smile design.  Antonis has placed hundreds of implants successfully, some of which have been very demanding, from both an aesthetic and a functional aspect. 
Dr Pisiaras has a Masters degree in implant dentistry from the University of Warwick.  He is currently an honorary member of staff there and mentors and guides students during their postgraduate studies.
Two of his cases have been nominated in two different categories at the prestigious Smile Awards 2012, awards that celebrate excellence in UK dentistry.
Patient consultations
For patients enquiring about implant treatment via this website, Dr Pisiaras offers a free preliminary consultation.  This appointment does not include a clinical examination and it only takes 15 minutes.  Please use the button in the right hand column to request an appointment.
Once you have decided in principle that you want implant treatment, the next step is a clinical consultation.  This includes a comprehensive oral examination and production of a fully-costed individual plan for your treatment.  The fee for the clinical assessment and treatment plan is £100 including X-rays.  If a CT scan is required further fees may apply.  The cost of the clinical consultation is refunded when you proceed with the treatment.
Main implant treatments and procedures offered
Single implant replacements including restorative aspect
Multiple implant placements including restorative aspect
Full arch/mouth rehabilitations including restorative aspect
Full range of grafting procedures
Immediate placement of implants after extractions
Immediate loading of implants
Teeth in a day for full mouth reconstruction using the SmartFixTM system
Piezosurgery
Intravenous sedation provided
Patient testimonials
"Antonis is such a lovely man and a real expert in what he does.  He placed an implant for my mum, there were some complicated grafting procedures to be done, but it didn't worry me as she was in the best possible hands.  All went well and she is very happy with the results.  I would highly recommend Dr Pisiaras, excellent work!"
Additional information
Dr Nunos Santos MSc implant dentistry and Dr Doug Jarvis BDS also practise at PS Dental Care and are very experienced in the provision of dental implants.
Main implant system
Implant case referral policies, procedures and administration
We accept referrals for all types of cases related to implants.  Our practice accepts referrals for complete treatment or surgical treatment only, allowing the GDP to restore, with our guidance if required.  The patient will be returned to the referring practice at the end of treatment.
General dental practitioners are encouraged to undertake the restoration phase of the implant treatment for their own patients in straightforward referred cases.  We also offer support to any practitioners wishing to restore dental implants or start placing their own.