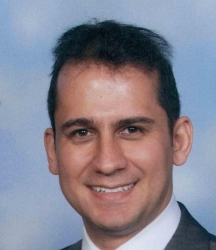 Tooth implant dentist Battersea, Lambeth, London
Dr Pakan Mazaheri
Dr Med Dent (Ger) DipImpDent RCS (Eng) (Advanced Certificate)
Dr Pakan Mazaheri is the principal dentist of Chatfield Dental Centre and has been practising dental implantology since 2006.  His clinical experience in the field of implantology covers bone grafting, sinus grafting and full mouth rehabilitations. 
Pakan graduated from RWTH Aachen (Germany) in 1998 and has been awarded the prestigious diploma in implant dentistry at the advanced level from the Royal College of Surgeons.
Patient consultations
For patients enquiring about implant treatment via this website, Dr Pakan Mazaheri offers a free preliminary consultation.  This appointment does not include a clinical examination and it only takes 15 minutes.  Please use the button in the right hand column to request an appointment.
Once you have decided in principle that you want implant treatment, the next step is a clinical consultation.  This includes a comprehensive oral examination and production of a fully-costed individual plan for your treatment.  The fee for the clinical assessment and treatment plan is £85 including X-rays and clinical pictures.  The cost of the clinical consultation is refunded when you proceed with the treatment.
Main implant treatments and procedures offered
Single and multiple implants

Immediate implants with crowns

Bone augmentation

Ridge expansion
Patient testimonials
"Three years ago I had seven dental implants to my top jaw and it was an investment which was worth having. My confidence has increased as I now have a perfect smile, and I can say goodbye to dentures and fillings. The treatment was meticulous, and Pakan and his team offered a very high standard which gave me confidence and reassurance. The end result was beyond my expectations. Thank you Pakan."
Implant case referral policies, procedures and administration
We accept referrals for all types of cases related to implants.  Our practice accepts referrals for complete treatment or surgical treatment only, allowing the GDP to restore, with our guidance if required.  The patient will be returned to the referring practice at the end of treatment.
General dental practitioners are encouraged to undertake the restoration phase of the implant treatment for their own patients in straightforward referred cases.  We also offer support to any practitioners wishing to restore dental implants or start placing their own.