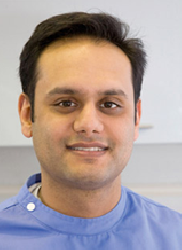 Tooth implant dentist Dorking, Surrey
Dr Sachin Varma
BDS MClinDent MFDS RCS (Eng) MRD RCS (Edin)
Dr Sachin Varma has a great deal of experience and knowledge in implant dentistry.  Having achieved a Master of Clinical Dentistry from King's College London, Sachin maintains an active role there training both postgraduate and undergraduate students.  His clinical work has been recognised by world leaders in restorative dentistry at Guy's Hospital. This has led him to gaining the MRD, one of the most prestigious qualifications in restorative dentistry.  Dr Varma takes pride in providing specialist treatment in prosthodontics and pleasure in sharing his skills.
Patient consultations
Patients just beginning to think about dental implant treatment may find it helpful to attend a complimentary preliminary consultation with Sachin Varma the implant dentist.  This appointment does not include a clinical examination and it only takes 15 minutes.  The discussion will help you consider the options for treating your dental problems and decide whether to proceed to a clinical consultation for implants.  The preliminary consultation is free of charge for visitors enquiring through this website.  Please use the button in the right hand column to request an appointment.
Once you have decided in principle that you want implant treatment, the next step is a clinical consultation.  This includes a comprehensive oral examination, and results in production of a fully-costed individual plan for your treatment.  The fee for the clinical assessment appointment and provision of your personal treatment plan is £70 for simple single tooth cases or £130 for more complex cases.  X-rays taken in the surgery are included in this price. 
Main implant treatments and procedures offered
Implant placement
Implant restoration
Full arch cases
Soft and hard tissue grafting
Sinus lifting
Patient testimonials
"Dr Varma talked me through every step of the procedures both before, during and after surgery. I have felt very little discomfort throughout my three implant procedures.  I now have the ability to confidently chew fully restored, and can savour my food again. I am extremely happy with every aspect of the work that Dr Varma has completed for me, and I can even smile my naturally broad smile again without worrying about the gaps."
"Sachin has been my dentist for several years. Having five implants and bridge work was one of the best decisions of my life. I had hesitated for several years, but Sachin reassured me and explained the procedures in detail. The implants are perfect, and it is wonderful to receive many comments from friends and family on how fine my teeth look.  I highly recommend Surrey Dental Specialists, Sachin is very professional and at the same time kind and understanding, I found his staff friendly and welcoming."
Additional information
Surrey Dental Specialists also offers hygienist services and full dental nursing care.
Implant case referral policies, procedures and administration
Referrals are accepted from general dental practitioners for most types of dental implant treatment.  Patients are treated only for the clinical situation for which they have been referred.  Once treatment is complete patients are returned to their own dentist for continuing care.
The practice offers restorative training sessions, courses and one-to-one mentoring.