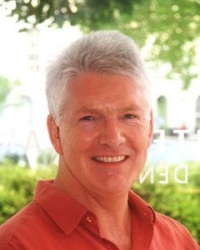 Tooth implant dentist Exeter, Devon
Dr Robert (Bob) W C Brazenall
BDS MFGDP(UK)
Bob Brazenall has over 20 years experience placing implants and more than 30 years doing complex prosthodontics. He has lectured and tutored on occlusion, sedation, implantology, practice management and case presentation. He has completed a wide variety of postgraduate training in many disciplines including: prosthodontics, periodontics, orthodontics and sedation. He has also attended many courses, master classes and conferences related to Implantology, both in the UK and abroad.
Bob has been an ADI member since its inception and was FGDP Southwest Chairman (Wessex Group) through the 1990s.
Patient consultations
Patients just beginning to think about dental implant treatment may find it helpful to attend a complimentary preliminary consultation with Dr Brazenall. This appointment does not include a clinical examination and it only takes 15 minutes.  The discussion will help you consider the options for treating your dental problems and decide whether to proceed to a clinical consultation for implants.  The preliminary consultation is free of charge for visitors enquiring through this website.  Please use the button in the right hand column to request an appointment.
Once you have decided in principle that you want implant treatment, the next step is a clinical consultation.  This includes a comprehensive oral examination, and results in production of a fully-costed individual plan for your treatment.  The fee for the clinical assessment appointment and provision of your personal treatment plan is £167 including X-rays.
Main implant treatments and procedures offered
Anything from advice to complex surgical and restorative rehabilitation. Help with case planning.
Sinus augmentations
Piezosurgery
Block grafts
Onlay grafts
Ridge splitting
Osseogenic distraction
Nerve repositioning
CAT scanning
SimPlant planning (CadCam)
Patient testimonials
"I can't say enough about my 4 dental implants, which have now been in for 2 years. Bob was able to offer me the expertise and professionalism I needed to sort out my teeth, which I have to say I'm delighted with. I now have four dental implants and four crowns, which look amazing. When I explain to people about all the work I've had done, they don't believe it, as they say my teeth look so natural."
"The final outcome was a total success with the implants in place. All I had hoped for had come to fruition thanks to Bob and his very professional team."
Implant case referral policies, procedures and administration
We have a referral pack that we send to colleagues and practices which contains all the information and admin data for the referral of patients.
General dental practitioners are encouraged to undertake the restoration phase of the implant treatment for their own patients in straightforward referred cases.
Bob Brazenall is an ADI training mentor, currently the only one in Devon.
His practice is accredited by the Royal College of Surgeons for Implant surgery and is equipped with an operating microscope with video for training purposes.
For information on training or referrals, please email robert@contemporarydental.co.uk