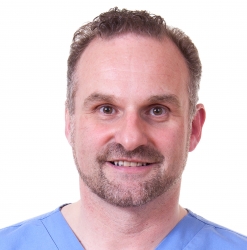 Tooth implant dentist Hale Barns, Greater Manchester, Cheshire
Professor Craig Barclay
BDS FDS RCPS DRD RCS MRD RCS MPhil PhD FDS RCPS (Rest)
Professor Craig Barclay has been placing and restoring dental implants for over 25 years.  He is the director of the MSc implant programme at the University of Manchester and also runs a five day dental implant foundation course for dentists at the Manchester Dental Education Centre.  Professor Barclay was one of the original examiners and founders of the diploma in implant dentistry at the Royal College of Surgeons (Edinburgh).
Professor Barclay is also a past president of the British Society of Prosthodontics and has lectured extensive both in the UK and internationally on dental implants.  He is currently conducting a randomised clinical trial to assess the performance of mini-implants versus conventional implants, funded by an NIHR research grant.
Patient consultations
For patients enquiring about implant treatment via this website, Professor Craig Barclay offers a free preliminary consultation.  This appointment does not include a clinical examination and it only takes 15 minutes.  Please use the button in the right hand column to request an appointment.
Once you have decided in principle that you want implant treatment, the next step is a clinical consultation.  This includes a comprehensive oral examination and production of a fully-costed individual plan for your treatment.  The fee for the clinical assessment and treatment plan is £95 including X-rays.  CT scans can be arranged locally if required, but will incur a cost of £99.  The cost of the clinical consultation is refunded when you proceed with the treatment.
Main implant treatments and procedures offered
Replacing loose complete dentures
Replacing one or more missing teeth
Full arch reconstructions
Advanced surgical procedures including bone grafting sinus lifting and nerve repositioning
Cases with post-operative complications
Post-operative care and long term maintenance
Managing failed implants
Patient testimonials
"Having implants placed to secure my denture was the best decision I've ever made.  It has truly changed my life."
"After years of misery with my teeth, Dr Barclay was my only hope.  I'm so pleased to have found him and his amazing team.  He fixed what had been done and gave me new implants at the front to let me smile again!"
Additional information
Dental implants are also placed by prosthodontics specialist Dr Riaz Yar and restorative specialists Dr Stephen Brindley and Professor Julian Sattersthwaite.  We also have the services of an oral maxillo-facial surgeon who carries out the difficult bone grafting procedures required in some complex implant cases.  This can be done either under sedation or under general anaesthetic as an in-patient.
Implant case referral policies, procedures and administration
Referrals are accepted by letter, email or through the case referral form accessed through the right hand column of this page.  
We will keep you informed throughout your patient's treatment journey.  We are more than happy to provide just implant placement for your patients and can return your patient following confirmation of integration and the placement of a healing abutment.  The practice can offer a mentoring service for your initial few cases if you require assistance with the restorative element.
Patients must be warned that smoking may be a barrier to implant placement.