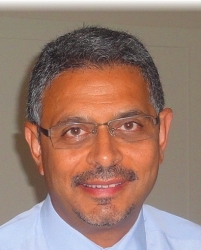 Tooth implant dentist , High Wycombe, Buckinghamshire
Dr Max Suleiman
BDS MSc (Implant Dentistry) PhD MFGDP
Max Suleiman is an implant surgeon at Guy's Hospital where he teaches postgraduates who are in specialist training.  Max was one of the first dentists to receive an MSc in implant dentistry with a distinction.  He was awarded a PhD by King's College in 2010.  He is the Clinical Director of the Shakespeare Implant Society at Ashford Hospital, Middlesex, where he also works as an associate specialist in maxillofacial surgery.  Max qualified at the Royal Dental Hospital in 1980.
Patient consultations
Patients just beginning to think about dental implant treatment may find it helpful to attend a complimentary preliminary consultation with Natalia the implant co-ordinator.  This appointment does not include a clinical examination and it only takes 15 minutes.  The discussion will help you consider the options for treating your dental problems and decide whether to proceed to a clinical consultation for implants.  The preliminary consultation is free of charge for visitors enquiring through this website.  Please use the button in the right hand column to request an appointment.
Once you have decided in principle that you want implant treatment, the next step is a clinical diagnostic phase. This includes a comprehensive oral examination, and results in production of a fully-costed individual plan for your treatment.  The fee for the clinical assessment appointment and provision of your personal treatment plan is around  £200-£300 excluding CT scans.  The cost of the treatment planning consultation is refunded when you proceed with the treatment.
Main implant treatments and procedures offered
 Surgical implant treatment
 Grafting procedures
 Restorative treatment
 Denture stabilisation
 Full mouth fixed teeth
 Same day teeth
Implant case referral policies, procedures and administration
Referrals are accepted for treatment planning, surgical placement or for full treatment.  Once treatment complete patients are returned to their own dentist for continuing care.
Dr Suleiman runs surgical and restorative training courses for basic and advanced implant procedures.