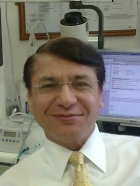 Tooth implant dentist , Kensington and Chelsea, London
Dr Mahesh Patel
FDSRCS(Edin) MSurg Dent RCS(Edin) Registered Specialist in Oral Surgery
Dr Patel is an oral surgeon with over 30 years' experience and special interests in implantology, cosmetic dentistry and cerec restorations.  He has carried out over 400 sinus grafting procedures and placed over 4000 implants to date.
Dr Patel is an examiner for the Implant Diploma and a Fellow of the Royal College of Surgeons, Edinburgh. He is a Fellow and Diplomat of the International Congress of Oral Implantology. He has a membership in Surgical Dentistry of the Royal College of Surgeons, Edinburgh.
Dr Patel qualified in 1975 and worked at the Eastman Dental Hospital until 1979, when he went into general practice.
Patient consultations
Patients just beginning to think about dental implant treatment may find it helpful to attend a complimentary preliminary consultation with Dr Patel. This appointment does not include a clinical examination and it only takes 15 minutes. The discussion will help you consider the options for treating your dental problems and decide whether to proceed to a clinical consultation for implants. The preliminary consultation is free of charge for visitors enquiring through this website. Please use the button in the right hand column to request an appointment.
Once you have decided in principle that you want implant treatment, the next step is a clinical consultation. This includes a comprehensive oral examination, and results in production of a fully-costed individual plan for your treatment. The fee for the clinical assessment appointment and provision of your personal treatment plan is £150 including X-rays. Additional charges for CT scans will be quoted if required. The cost of the treatment planning consultation is refunded when you proceed with the treatment.
Main implant treatments and procedures offered
In-house CT scanner in the practice
Sinus augmentations
All forms of bone augmentations
Spark erosion bars for prosthetic rehabilitation
Additional information
Other practices:
RP Dental Practice, 156a Haverstock Hill, London, NW32AT
Winchmore Hill Dental Practice, 927 Green Lanes, London, N21 2PB
North Square Dental Practice, 277 Fore Street, London, N9 0PD
Tel: 0208 807 7112
Implant case referral policies, procedures and administration
Ring Rita on 0208 360 2010 for details