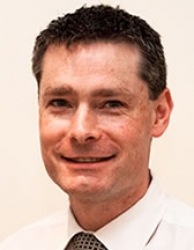 Tooth implant dentist Rochdale, Lancashire
Dr Mark Edmondson
BDS FDS RCS (Eng)
Dr Mark Edmondson is an experienced oral surgeon specialising in surgical aspects of implant dentistry.  He practices throughout the North West and has placed over 2,500 implants.  Having qualified at Manchester Dental Hospital, Mark worked as a staff surgeon for the East Lancashire Maxillofacial Service.  He received a Fellowship in Dental Surgery from the Royal College of Surgeons in 1995 and is a tutor on the University of Manchester MSc implantology course.  Mark is a member of the Association of Dental Implantology UK, the British Association of Oral and Maxillofacial Surgeons and the European Association for Osseointegration.
Patient consultations
Patients just beginning to think about dental implant treatment may find it helpful to attend a complimentary preliminary consultation with Dr Edmondson.  This appointment does not include a clinical examination and it only takes 15 minutes.  The discussion will help you consider the options for treating your dental problems and decide whether to proceed to a clinical consultation for implants.  The preliminary consultation is free of charge for visitors enquiring through this website.  Please use the button in the right hand column to request an appointment.
Once you have decided in principle that you want implant treatment, the next step is a clinical consultation.  This includes a comprehensive oral examination, and results in production of a fully-costed individual plan for your treatment.  The fee for the clinical assessment appointment and provision of your personal treatment plan is £125 including X-rays.
Main implant treatments and procedures offered
Replacement of one or more missing teeth
Implant-supported overdentures
Full arch reconstruction
Three dimensional cone beam scanning
Bone augmentation
Advanced surgical procedures including sinus floor elevation
Dental implant maintenance
Additional information
Bamford Dental Practice offers advanced X-ray and scanning facilities and a dedicated infection control facility. 
Intravenous sedation can be arranged.
Implant case referral policies, procedures and administration
We welcome referrals for all types of dental implant treatment.