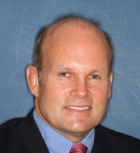 Tooth implant dentist Weybridge, Surrey
Dr Johann Styger
BChD (Pret) PDD (Stell) DUIOFP (Lille)
Johann Styger has been involved in implant dentistry since 1990 and has been successfully placing implants for the last 15 years. He has completed a diploma in implantology at Lille University; he has a particular interest in implant placement in the aesthetic zone and soft tissue management to achieve the best cosmetic result. He further developed these skills having been inspired by completing the Rosenthal Institute New York courses on aesthetic dentistry achieving master level in 2005, and is currently a UK instructor.
Johann qualified in June 1987 at the University of Pretoria in South Africa. In 2001 he relocated to the UK and joined Portmore Dental Office in 2002, becoming a partner in 2003.
Patient consultations
A consultation is £60 and if a CT scan is required it would be an additional £265 which is refunded if treatment goes ahead.  Within this appointment they would be provided with all treatment options and advice.
Patients then have an appointment with the treatment co-ordinator to arrange appointments and go over costings and payment options.
Main implant treatments and procedures offered
 Immediate implants
 Immediate implant dentures
 Implants in cosmetic zone
 Ramus blades
 Implants in difficult occlusal cases
 Sinus lift
 Bone augmentation
 Panoramic X-ray
 CT scan
Patient testimonials
"My husband and I both have had implant surgery done by Dr Styger. After extensive bone surgery, I was able to have the implants placed. The procedure was fairly lengthy; the outcome was "Absolutely Brilliant" The implants feel just like my normal teeth."
"My wife and I have had implant treatment, hers is done and mine almost complete. The process is fairly long and complex, requiring considerable expertise. Dr Styger demonstrated superb skill, infinite patience, and excellent patient care and concern. My wife and I both feel the benefits have been well worth the time and cost."
Additional information
A comprehensive treatment plan is always given to every patient and our special interests include occlusal therapies, endodontics, orthodontics, periodontics, cosmetic dentistry. Cosmetic medicine and sports dentistry and medicine.
Implant case referral policies, procedures and administration
Dr Styger arranges one-to-one restorative training and provides full support  for referring dentists who wish to complete the restoration themselves. All patients are returned to the referring dentists after treatment.