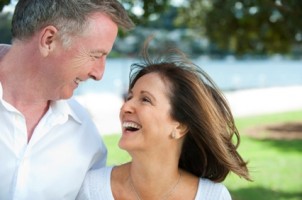 Get your life back on track after tooth loss
Dental implants have helped people with missing and failing teeth regain the function and confidence they previously took for granted.
Many of us assume that we will be able to rely on our natural teeth to work indefinitely.  Until you're at risk of losing a tooth you may not fully appreciate how enjoyable it is to bite into an apple or eat a steak.  We smile, laugh, talk and eat with confidence, and our teeth may work well for decades.
That can all change when you start to lose your teeth.  Then we realise the value of healthy teeth in our everyday lives and how much they affect our confidence, overall appearance and ability to eat.
Choosing dental implants to fill gaps after tooth loss can help you:
Life changing
Dental implants can give back your ability to eat, chew, smile and be confident in life.  They can help boost self-esteem and stop you hiding your smile behind a hand, declining photo opportunities or missing out on social situations.   For people who have lost one or more teeth, dental implants represent the closest thing to a second chance they can get.
A lady in her forties suffered for eight years with the pain and embarrassment of a failing front tooth.  She explains how her life changed after an abscess caused her front tooth to drop, "I couldn't eat properly as the tooth was very painful, I had to put food to the sides of my mouth to be able to bite and chew.  I didn't want to go out for meal or to friend's birthday parties.  If I had to eat in a public place, I would make excuses and find somewhere out of the way to sit.   Having my photo taken was horrendous – I wouldn't smile and would look serious, which isn't me at all!"
After finally opting for dental implant treatment with Dr Jatin Desai of Gipsy Lane Advanced Dental Care, she was delighted with the result.  "Now I can smile, I have no pain and I am back to normal.   I realise that through all those years, I couldn't be me, but now I have my life back!  I have just celebrated my wedding anniversary and I was so excited about going out for a meal.  I could relax and enjoy myself at last."
Keep a confident smile
Dental implants can help you regain a healthy smile and your confidence.
If you have a missing tooth or teeth, especially if there is a gap which is visible when you smile, then you may feel self-conscious and embarrassed.  People with missing or failing teeth are often reluctant to smile properly.  Interacting with people face-to-face at work and socially can become a daunting prospect. 
A patient of Dr Allan Pirie, Clifton Implant Clinic commented, "Since having dental implants I am able to smile properly for the first time in years.   I have become more confident and only have one major regret, which is that I should have done this years ago."
Dental implants help keep you looking younger
We can't stop the ageing process, and its effects can be most noticeable on our face.  Sagging and wrinkles are a fact of life.  If you have missing teeth, the adverse effect on your appearance may be more pronounced.
Your teeth provide part of the natural structure for your face.   When you have teeth missing or you are using dentures that are not fixed, the jawbone (alveolar bone) no longer receives the same stimulation from chewing and biting.   This results in bone shrinkage (resorption).
Picture how someone looks before and after removing dentures.  This is what can happen when bone resorbs.   It shrinks the jaw contours and can lead to wrinkled lips and a sunken mouth and face, which can make you look older.
Once in place, tooth implants are the only dental treatment that can preserve bone.   Dental implants help to keep your jawbone from deteriorating and help you stay looking younger.
A female patient of Dr Don Weerasirie, Ocean Dental recently had three implants and three crowns placed.  After the treatment she commented, "I was so embarrassed to smile and now I can smile broadly and laugh heartily with total confidence.  My mouth looks like that of the girl I once was and I feel like a young girl again!  What a boost to my morale!"
She added, "I am totally delighted with the results and would recommend dental implants without hesitation."
Taste buds back in business
If you use dental implants to replace an upper denture you may notice food tastes much better.  This is because the roof of your mouth which contains thousands of taste buds will no longer be covered up.
If you currently use dentures, failure to clean them properly and the use of adhesive or fixative may also have an impact on your ability to taste.
As one of our five senses, taste is a key factor in our enjoyment of food.  When flavour is lost it can affect what you eat and in turn your nutrition.
The knock-on effect of diminished taste can be a lack of interest in eating properly and a higher consumption of sweet, salty and fatty foods.  These changes in eating habits can put people more at risk for chronic diseases.
Removing the acrylic plate that covers the roof of your mouth and replacing it with implants may also stop the gag reflex some people experience when using conventional dentures.  Gagging is the body's natural response to prevent choking in the throat. 
As well as helping to retain taste, dental implants can allow you feel the correct texture and temperature of food too.
A grateful dental implant patient of Dr Duncan Ralston, The Dental and Cosmetic Clinic commented, "I write this letter to express my thanks and appreciation to you for giving me my speech, taste and confidence to smile, back again.  For the first time in 30 years I can now bite into an apple and taste the food I'm eating."
Improved speech
Making whistling sounds and spitting when you talk can be the result of gaps in your mouth.  Pronouncing some words can also be difficult if you have lost certain teeth.
We produce sounds necessary for speech with the help of our tongue moving and pressing on teeth and the roof of the mouth.  Replacing lost natural teeth with implants enables you to speak normally.
With some poor fitting dentures the teeth can slip within the mouth causing you to mumble or slur your words.  Dental implants allow you to speak without the worry that teeth might slip.
Easy eating, biting and chewing
No one wants to go out for dinner and choose from the menu food you 'can' eat, over food you 'want' to eat.  Dental implants can restore your ability to eat and chew your favourite foods without hesitation.  They help to restore full chewing power.
A female patient of Dr Philip Hayter, Highland View Dental Surgery explained how dental implants have helped her.  "A real problem for me was also not having many back teeth.   I was eating on my front teeth and it meant I really couldn't enjoy a lot of food, particularly chops, steak which in my younger days I thoroughly enjoyed.  I considered implants; one in each corner -  four, and that has been the best investment I've ever made.  My teeth are secure and I can enjoy food and I'm really pleased."
Teeth that stay put
Laugh, cry or shout, dental implants are stable and secure.  Unlike dentures that are not fixed, implant-supported restorations don't shift and slip.  You don't have to worry about the embarrassment of them falling out at awkward moments.
The tiny titanium posts fuse with the jaw bone and become part of your anatomy with no need for adhesives or clasps.  If you currently wear loose fitting dentures, they can be replaced with implant supported teeth to improve stability.  The options include overdentures, a full arch bridge or individual implant supported teeth.
A patient of Dr Philip Burns, Monkstown Dental Practice explained, "I had two choices, wear a denture or invest in an implant.  I opted to go for the finished job of having an implant fitted.  I now have a confident smile and no longer fret as I take customers out for lunch on whether my tooth will let me down or not.  A job well done in my opinion and worth every penny."
Simple to care for
You clean your teeth implants as you would normal, healthy teeth by brushing and flossing.  No need for teeth in a glass overnight.
Following a work-related accident, a male patient was unhappy with the denture he had to wear to replace the loss of one of his front teeth.  After talking to his regular dentist, Dr Melt Hanekom of Southwoods Dental Practice, he was referred to Dr James Main in Glastonbury for implant treatment.
Dr Main placed one implant to replace the missing tooth and then four years later recommended another implant be placed for the adjacent tooth, which had been root filled and was failing.  Dr Hanekom fitted the crown for this second implant.
The patient commented on the result, "The new teeth feel just like normal teeth.  They are really easy to care for; I don't have to take anything out to clean every day.  I just have to keep them clean, and visit the hygienist regularly.  Best of all, I can smile without thinking about it!"
Denture, bridge, leave a gap, or implant?
These are the options most people will consider after losing teeth.  Before opting for implants many people will have already tried out one or more of the above treatments.
Bridges and dentures may be cheaper in the short term, but have some disadvantages.   To fit a bridge the adjacent teeth need to be shaved down.  A bridge also puts more force on the adjacent teeth.
Dentures can be uncomfortable and can cause problems with eating and speaking.  The bone beneath a denture shrinks because it is not being used, and chewing pressure reduces blood supply.
With dental implants, the only teeth affected are your missing teeth.
The British Dental Health Foundation says,
 "In many situations, the cost of the treatment is only a little more than the cost of more conventional dental treatment with crowns and bridges.  Over the longer term, implants are usually a more cost-effective and satisfactory option.
There are other advantages to implants too.  If you have an implant to replace a single tooth, there is no need to cut down the teeth either side of it.  If you had a bridge, your dentist would need to do this and fit crowns to these teeth to support the bridge.
Normal dentures often mean that your eating and drinking are affected because the dentures may move about.  But teeth attached to an implant don't cause this problem, because they are anchored to the bone more firmly than natural teeth." 
So how do dental implants work?
Dental implants are the next best thing to healthy, natural teeth.
Teeth implants are permanent replacements for failing or missing tooth roots.  They are the only method of replacing the whole tooth.  Titanium supports replace the root of the tooth and hold replacement teeth such as single crowns, multiple tooth bridges or even full dentures.
The dental implant is inserted into the jaw before the new teeth are fitted and fuses with the jaw bone, a process called osseointegration.  This results in a secure bond between the tooth and surrounding bone.
Can I have dental implants?
If you are interested in replacing a missing tooth or teeth, dental implants may be an option for you.  Most people are good candidates for implants.
Teeth implants are an investment in you
Dental implant treatment is a cost-effective, long-term investment and offers a strong and stable solution for people with missing teeth.  It has a track record of successful outcomes and is considered a reliable, predictable choice for patients.
Once installed implants require minimal maintenance and help prevent any future damage to your teeth.
So if you are living with missing or decayed teeth, don't avoid doing something that can help give you back your quality of life.
Dental implants are an investment in your health, your confidence and most importantly, in you.
To find a dentist to discuss the right dental implant treatment for you click here