How dental implants can help boost confidence at work
Going to work and coping with the daily responsibilities of a busy job can be tough.  People with missing teeth can find smiling, eating and interacting with others at work even more of a challenge.   A failing tooth, a gap, a bridge or denture which is visible or loose, can make people feel self-conscious and embarrassed.  According to a Bupa study* of 2,000 UK employees, workers worry that unhealthy teeth can damage job prospects, performance at work and the confidence they have in themselves and others.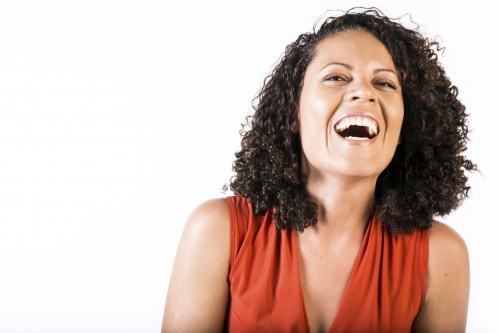 Contents
---
Dental implants have helped many people who suffer from missing teeth regain the ability to eat, chew and smile, restoring their confidence at work and socially.  Implants can help boost self-esteem as they look, feel and function like natural teeth. 
Implants are permanent replacements for failing or missing tooth roots.  Titanium posts replace the root of the tooth and hold replacement teeth such as single crowns, multiple tooth bridges and full dentures.  The dental implant is inserted into the jaw before the new teeth are fitted and fuses with the jawbone, a process called osseointegration.  This results in a secure bond between the tooth and surrounding bone.
Teeth implants can give you a second chance to have a healthy mouth regardless of how you lost your teeth in the first place.  If you are experiencing problems caused by missing teeth, deciding to have implants could help to restore confidence when interacting with others and make a busy life just that little bit easier.
Not embarrassed to smile
The Bupa study found that 28 per cent of employees try not to smile at work, as they are not confident about their teeth.  Caroline wouldn't smile properly after an abscess behind one of her front teeth caused it to drop and become painful.  She lived with her failing front tooth for eight years. 
Caroline explains, "Everyone I worked with knew I had a problem, but they were discreet and acted as though they didn't notice.  However, I work as a secretary and have to face new people every day.  I became more and more conscious of them looking at my tooth.  I would tighten my lip to avoid it showing.  I wouldn't smile and would look serious, which isn't me at all."
Eventually she decided to talk to a dentist and went to see Dr Jatin Desai at Gipsy Lane Advanced Dental Care, Lower Earley.  He told Caroline that she would be suitable for dental implant treatment.  Her infected tooth was removed and after bone grafting, a single implant was placed.  After three months of healing and wearing a temporary bridge, the final crown was fitted to the implant. 
Caroline comments, "When Jatin handed me a mirror and I looked at my tooth, I was so delighted, I cried!  I just couldn't believe it and words cannot explain how I felt.  Now I can smile, I have no pain and I am back to normal." 
The Bupa study also found that 67 per cent of employees surveyed consider a good smile to be an 'important asset' at work. 
Dr Steve Preddy, a clinical director of dentistry at Bupa, comments, "Our smile plays a large part in the initial visual impression we create in meetings, interviews, during presentations...  An attractive smile suggests confidence, competence and authority, which can enhance career prospects and have a motivating effect on others."
Implants have restored my confidence
If you are missing teeth, it can affect your relationship and confidence in dealing with your colleagues and customers.  The Bupa study shows that 42 per cent of employees found working with colleagues with bad teeth distracting and almost 29 per cent admit that it affects their confidence in a co-worker's ability to do their job.
When Megan bit down on some uncooked popcorn, she cracked a premolar in half.  This made eating on that side of the mouth difficult.  She did not want a crown so the tooth was removed leaving a very visible gap. 
Megan said, "It was extremely embarrassing at the time, as I was working as a full-time healthcare assistant in a busy pharmacy, which involved talking to customers all day."
Her dentist, Dr James Main of The James Main Dental Partnership in Glastonbury, didn't think a bridge would be suitable.  So Megan decided to have a dental implant to replace her missing tooth. 
She found the procedure very straightforward.  "The implanted tooth looks and feels completely natural.  I am so pleased to have my confidence back when speaking to friends and members of the public."
Dr James Main explains, "One of the first things that people will notice about you, is your smile.  They will often formulate their impression of you based on how your smile looks.   Several of my patients who were previously held back by their teeth, have told me that dental implant treatment has helped to improve their confidence at work considerably.  One patient even went on to gain several promotions, which gave her career prospects she could only previously dream of."
Roger is now retired, but has a busy social life as Chairman of the MX-5 Owners Club.  He was referred to Dr Steve Larcombe of St Lawrence House Dental Practice, Winchester, after his upper front tooth broke off.  At the clinical examination, other adjacent teeth were found to be infected.  A range of implant options were discussed.  Roger decided to have three dental implants placed to support a new, five-tooth screw-retained fixed bridge. 
His role as Chairman involves contact with members, chairing meetings and presentations.  He is delighted with his dental implants and explains how they have helped him,
"You get your life back as you want to lead it.  There is now no risk of my teeth falling out during a presentation.  When we travel it's easier; I don't have to take spare dentures and the liquids you need.  My wife said that I had got my smile back."
Another patient treated with implants by Dr Steve Larcombe comments, "Part of my activities involve speaking in public.  I can address several hundred people on some occasions.  It would be most embarrassing if I had a denture fall out."  He concludes, "I would certainly recommend Dr Larcombe to others for any implant."
I can eat where and what I want
Eating in public can be awkward and embarrassing for people with missing or loose teeth, dentures or bridgework.  Eating with colleagues in the works canteen or going out for lunch with colleagues or clients, is something most of us take for granted.  Missing teeth can restrict your ability to eat certain foods and if you wear a denture or bridge, there is always the risk of it becoming loose or breaking. 
It can be restricting and frustrating to go out and choose from the menu food you 'can' eat, rather than the foods you 'want' to eat.   We use our teeth to tear, shred and grind up our food.  Depending on where you are missing teeth, consuming meat may become a problem because it involves a lot of chewing with the back teeth.  Biting into an apple may not be possible if you are missing your front teeth.  Dental implants can restore full chewing power and your ability to eat, bite and chew all your favourite foods.
Joe a 56-year-old Product Manager went to see Dr Sarab Oberai of the Ashford Village Dental Practice after losing seven teeth in his upper jaw.  He was left with no back molars and a very loose front upper central incisor.  His missing teeth left him unable to eat certain foods and he struggled to smile because of the loose front tooth, which also caused him constant pain.
Dr Oberai advised Joe to consider having a total of five teeth implants.  Treatment would involve four implants placed at the back of his mouth, two each side to support two three-unit bridges.  The fifth implant would replace his central incisor.
Joe is glad he has had dental implant treatment.  The implants have restored his confidence and the ability to eat what he wants.  He says, "I used to have to be selective with my food choices.  But now after implants, I'm looking forward to enjoying a piece of steak."
A patient of Dr Philip Burns, Monkstown Dental Practice, County Antrim explains how implants have helped him. 
"I had two choices, wear a denture or invest in an implant.  I opted to go for the finished job of having an implant fitted.  I now have a confident smile and no longer fret as I take customers out for lunch, on whether my tooth will let me down or not.  A job well done in my opinion and worth every penny."
Life-changing dental implants
UK workers believe that a healthy smile improves their employability and promotion prospects.  The Bupa study also revealed that almost 27 per cent of UK employees have considered getting their teeth fixed to boost their self-confidence at work. 
Many people opt for dental implants because of life-changing, functional reasons.  They have implants placed to help them eat, bite, taste, chew, talk and smile normally.  Implants help to restore a natural smile, improving comfort, confidence and overall quality of life.
A female patient suffered from missing teeth and her last few remaining teeth had become loose.  She dreaded the thought of dentures and was so embarrassed by her appearance that she became a social recluse.  She lost touch with her friends and stopped working.  After finding out about dental implants, she was referred to Dr Colin Neil of Confident Dental Care and Implants Centre, Stroud.
Dr Neil explained that a 'same day teeth' technique would be possible for her.  This meant that all of her teeth could be replaced with dental implants and at the same time a temporary fixed bridge could be fitted.  This would be replaced by a permanent fixed bridge after the implants had healed.
Dr Neil comments, "My patient has since returned for her review and her delight with the result of her implant treatment was self-evident from her beaming smile and confident demeanour.  She has since found a new job and joined her local golf club.  She is a much more active and very much happier lady since we first met her."
Dental implant treatment is tailored to the individual.  It will depend on the number of teeth you have lost, where teeth are missing and your current oral health.  If you are interested in replacing a missing tooth or teeth, speak to a dentist for further information, as implants may be the best option for you.
*Source – Bupa survey of 2,000 full-time UK workers, 2014.
This article was written with advice from:
Dr James Main