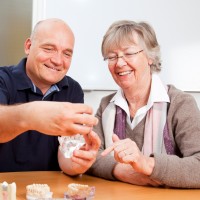 How do I choose a dentist for my implant treatment?
Dental implants help to improve the quality of life for many people with missing teeth.  If you've decided to have dental implants, you'll want to ensure that your oral health is in safe hands, and the time and money you plan to invest are well spent.  So how do you go about choosing the right implant dentist for you?
The level of training and experience a dentist may have in implantology can vary.  Fewer than one in ten general dental practitioners have undergone the necessary training to place dental implants.  There are over 2,000 dentists in the UK who provide implant treatment, but it is not an accredited area of dentistry and currently not considered a specialism.   
It is important, therefore, for you to determine whether a dentist has acquired the training and experience, in order for them to offer tooth implant treatment.  With rapid technological developments and changes in implant design, materials and delivery of treatment, dentists may have varying levels of knowledge in an area such as dental implants.
Just as you would before any other medical or surgical procedure, you should do your research.  Find out about an implant dentist's experience and training, ask questions about his or her work and speak to other implant patients.   
What qualifications and knowledge should my implant dentist have?
The undergraduate dentistry curriculum does not include training in implant dentistry.  According to the Association of Dental Implantology UK, "It is mandatory for dentists wishing to provide surgical and/or restorative implant treatment in the UK to undertake structured education and training at an appropriate postgraduate level."
The guidelines 'Training Standards in Implant Dentistry', produced by The General Dental Council (GDC) and The Faculty of General Dental Practice (FGDP UK), govern the standards necessary for training and provision of implant dentistry in the UK.
The FGDP UK also states, "Dental implants are used to replace one or more missing teeth.  Their insertion involves various surgical and restorative dental procedures and therefore dentists placing implants must be competent to carry out these procedures.  The dentist must have undertaken suitable postgraduate training and assessment, which has included practical implant placement."
Dentists can receive training in implant dentistry in a number of different ways.  To conform to the training standards issued by the GDC and FGDP (UK), structured courses are offered by universities, independent individuals, organisations and institutions such as the Royal Colleges.
Some of the qualifications you might expect your implant dentist to have are postgraduate implant dentistry at certificate, diploma or masters level (for example, Dip Imp Dent RCSEd or FGDP(UK), MSc in Implant Dentistry).  However, there is no substitute for practical experience.
If a dentist has no formal qualification, he or she may have received training via a different route.  For instance, a dentist may be self-taught, or have been trained and mentored by an experienced colleague.  If this is the case, it is the dentist's responsibility to demonstrate the suitability of their training both academically and clinically, before practising implant dentistry. 
The GDC states, "Dental professionals have an ethical responsibility to limit their scope of practice to what they are trained and competent to do.  Any dental professional who carries out work for which they are not trained and competent puts their registration at risk."
UK dentists can take advantage of highly structured opportunities for training in implant dentistry.  Failure to prove that the necessary training has been received could result in disciplinary proceeding against a dentist by the GDC and removal from the GDC register.
What should I be asking my dentist about their implant experience?
Don't be afraid to ask your dentist questions.  Most of the clinics featured on click4teeth.com offer a FREE exploratory consultation for prospective implant patients.  You can use this appointment to help you consider the options for treating your dental problems and to establish the dentist's implant credentials.  This initial consultation only takes about 15 minutes and does not involve a clinical examination.
Most dentists will be happy to discuss everything in detail with you.  Talking to your dentist can help you make an informed decision about your treatment and their ability to place implants. You can then decide whether to proceed to the next stage.  Book a free initial consultation with a local implant dentist.
The following questions can help you determine whether a dentist is experienced with dental implant placement:
How long have you been placing implants?  There is no substitute for experience.
How many dental implants do you place each year?  An experienced implant dentist will normally place 100 or more a year.  Ideally they should be placing implants on a regular basis and it should form a large part of their workload.
What is your success rate?  The success rate of dental implants is high, around 95% (Association of Dental Implantology).  This may be a lower figure for a less experienced dentist.  You may also want to enquire if the practice offers a warranty for the dental implants.
What is the extent of your formal training in implant surgery?  Ask specifically the names of the courses, dates, durations, and where they were obtained.  The qualifications should be endorsed or supported by professional associations. 
How many bone grafting procedures have you performed?  In order for a dental implant to be successful, the patient must have sufficient bone in the jaw to place the implant into.  If you require a bone graft, as with implants, the key to success is to find an implant dentist with the relevant training and surgical experience.  At the exploratory consultation, ask to see patient outcomes involving bone grafting.  Find out more about bone grafting for dental implant treatment.
Do you refer complex or difficult cases to a surgical specialist?  Sometimes a specialist might be needed to carry out complex surgical treatments for difficult cases.
Have you undertaken any dental implant education courses during the last two years?  Dental implant procedures are continually advancing; you may wish to look for a dentist who wants to keep abreast of training, technology and industry developments.  Make sure the dentist's achievements are current.
Ask to speak to other patients at the practice about their implant treatment.  Personal experience will give you accurate and valuable insight into the dentist's work.  For further details on patient feedback about implants, read stories about implant treatment from real patients.
Ask to see before and after photos.  Pictures of the dentist's previous cases can help show their skill and competency.  Make sure it's the dentist's own work you are looking at.
Should I travel abroad to get dental implants?
If you're thinking about dental treatment abroad, it's a good idea to do your homework first and to be aware of the potential risks. 
One of the main reasons some people go abroad for tooth implant treatment is a perceived cost saving.  However, there are other factors to consider.  Some of the main difficulties you may encounter are likely to be with communication and aftercare.  If there is a language barrier or communication difficulties, you may not get all the information or support that you would get from your dentist at home.
Aftercare may also prove to be a problem.  Dental implant treatment often requires regular visits to the clinic, which can be more convenient and less expensive if it is local.  If you need to travel abroad, aftercare appointments may require more time and expense.
If you seek follow-up care in the UK, it can sometimes be very difficult for local dentists to treat patients who have received their implants overseas.  This is due to some countries having different dentistry regulation standards and using other systems to place implants.   
Can my own dentist provide implants?
Your dentist may offer implant treatment but, if not, they should be able to refer you to an implant dentist.
Provided they have completed the necessary training, your own general dental practitioner may offer the most common dental implant treatments.  Sometimes you can be referred to an implant clinic for the implant placement, and then returned to your own dentist, for the denture, bridge or crown to be fitted on top.
If your own dental practice does not already offer implant treatment, you can find a dentist who provides the complete service.  Click4teeth.com offers people with missing teeth a UK- wide directory of implant dentists.  You can ask a dentist a question or book a free initial consultation with any implant dentist featured.  No referral is necessary from your regular dentist.
Clinical consultation and informed consent procedure
When you are ready to progress further with dental implant treatment, after an exploratory consultation, the next step is a full clinical consultation.  This will involve a thorough check of your medical and oral history.  A complete examination of your mouth and usually radiographs (X-rays), photographs and casts (models) of your teeth will be taken. 
Based on this information, the dentist will produce a written, fully-costed, individual treatment and maintenance plan, outlining the whole procedure.  It is useful at this stage to discuss with your implant dentist any important social or travel plans, work commitments or budgetary constraints, that you may like factored into the treatment planning. 
It is essential that you receive sufficient information about your implant treatment from your dentist.  You should be fully informed about the alternatives, advantages, disadvantages, limitations, risks and the likely outcome. 
When you are happy that all issues have been addressed and that all your questions have been answered in a satisfactory manner, you will be asked to sign a consent form before dental work can start.
Click4teeth can help
Click4teeth is the UK's largest directory of dentists who provide tooth implants to replace missing teeth.  It contains details of more than 2,000 clinics in the UK that offer the treatment.  We can help you find the right implant dentist, local to you, with no referral necessary.  Browse our UK directory of implant dentists.
Inclusion in the directory is no indication of clinical competence, which is governed by the relevant professional bodies.  Click4teeth recommends that patients should always seek further information about their chosen implant dentist before starting a course of treatment, and check with the practice that the latest details provided by the dentist on click4teeth are correct and up-to-date.  Your final choice of treatment will be a matter between you and the dentist placing your dental implants.
Finding an implant dentist with the right education, training and experience is a key factor for dental implant success.   But it is also important to have a dentist who listens to your needs and opinions, and explains all the options and procedures to you in understandable terms.   This is more likely to result in finding a practitioner that you feel comfortable with and in whom you can have confidence. 
Ask an implant dentist a question and request a call back.
This article was compiled with assistance from Dr Martin Wanendeya.