What is the right age for dental implants?
People are living longer and healthier lives. But if your teeth start to fail, you could benefit from dental implants. They can help you keep eating what you want and to stay socially active and smiling, without the worry and embarrassment missing teeth and denture use can bring.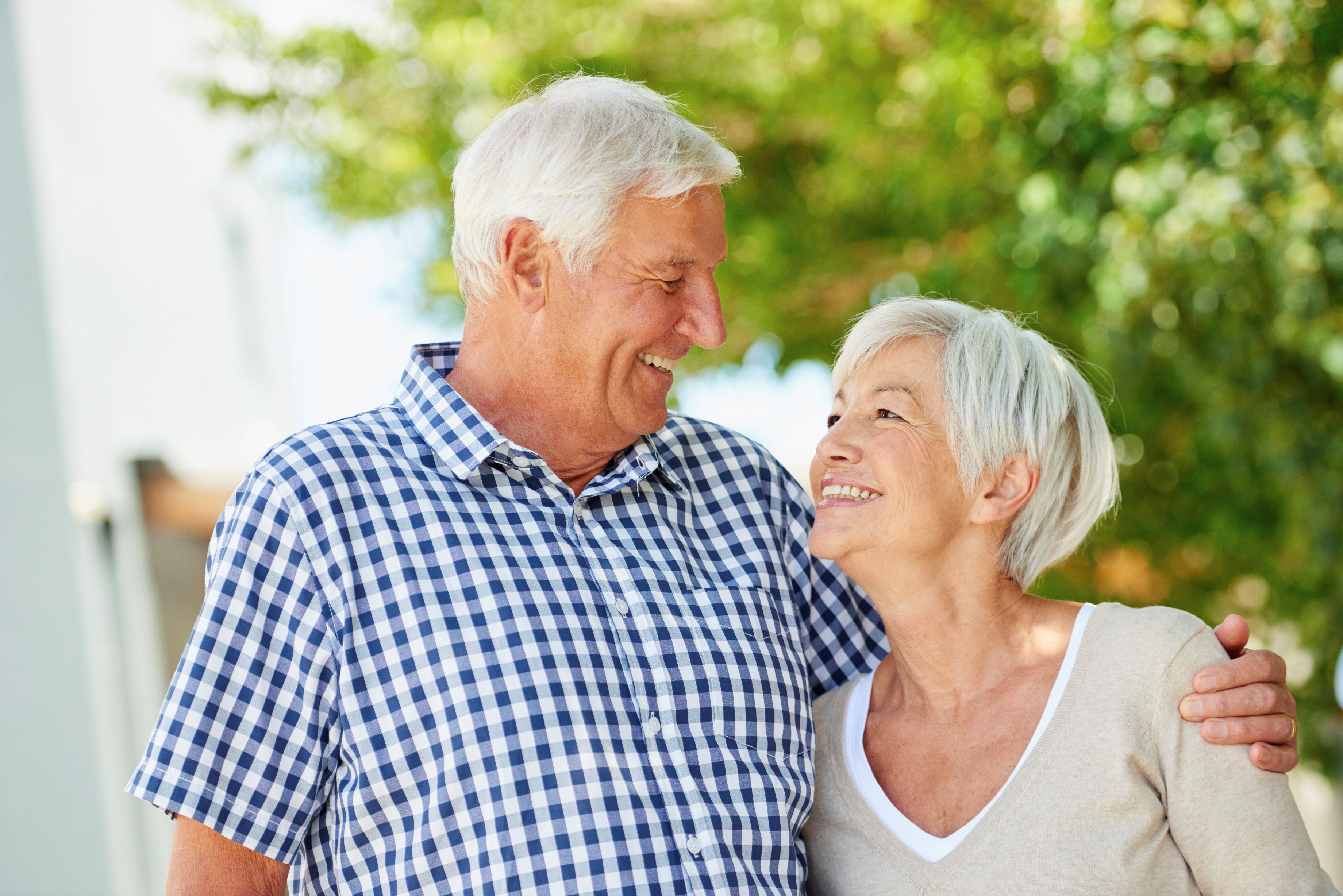 Contents
---
There is no upper age limit to having dental implants. In most cases, you can be a suitable candidate, provided you are healthy and able to undergo a routine dental procedure, such as an extraction. It helps not to be a smoker, to have good oral hygiene, healthy gums and enough bone in your jaw to anchor the implant.
Age needn't be a key factor for dental implant success. Implants placed in healthy, older patients with sufficient bone, can respond with the same predictability as in younger patients. No one should suffer a reduced quality of life due to an inability to eat, chew, speak, and smile.
Dr Jeremy Woodcock at Dental Excellence, Chalfont St Giles explains, "One of the problems that dentists are now finding, is that people may lose their teeth at a much later stage in life, and then the gum tissues and muscles are far less adaptable to wearing dentures. The gums are thin and ulcerate easily and the muscles simply do not learn to control the movement of dentures in function. This can make life quite miserable, with a lack of enjoyment of food and social embarrassment. Simply placing two implants into a jaw would be enough to hold the dentures in place securely and this would also reduce the pressure on delicate gums beneath."
Dr Woodcock adds, "At Dental Excellence we have treated many patients in their 70s and 80s. We have recently placed implants into the mouth of a 92 year old lady and she was delighted with the results."
You must be mobile and able to travel to and from your dental surgery. You will be expected to attend several appointments so that key work can be undertaken. Make sure you can get to your surgery for the treatment you need, before travel becomes an issue.
Am I suitable for dental implants?
Almost anyone who has lost a tooth, several teeth or all of their teeth is a candidate for dental implants. There are very few exceptions.
You must be in good general health and have a healthy mouth with no untreated tooth decay or gum (periodontal) disease. Any dental problems will need to be resolved before implants are placed.
Your dentist will want to check that your oral hygiene is of a high standard, as you will need to keep your teeth clean and plaque-free.
In particular, heavy smoking can affect the healing process and may be bad for the long-term health of gum and bone surrounding the implant. Stopping smoking will considerably increase the success of your implant treatment.
Dr Andrew Fennell of Winning Smiles, Romford comments, "These days I am a lot stronger with patients about smoking. I personally won't carry out implant treatment on smokers until they quit, because I have seen too many serious failures in smokers over the last 15 years."
You might not be suitable for dental implant treatment if you have certain medical conditions. These include uncontrolled diabetes, blood clotting disorders, cancer, problems with the immune system and drug abuse. Your implant dentist will be able to tell you if there is a medical problem preventing you from having implants.
Young people under the age of 18 should wait to to have implants because their bone tissue is not fully developed and their jaw is still growing.
Dr Max Suleiman of Amersham Hill Dental Clinic, High Wycombe maintains, "It can still make sense to get an opinion early, as the dental surgeon can then plan treatment more accurately, especially if orthodontic treatment is proposed."
Dr Colin Neil at Confident Dental Care and Implants Centre, Stroud comments, "Young people under the age of 18 will have bone tissue that is not fully developed as their jaw is still growing, so are usually best advised to delay implant treatment until their growth is complete. As an adult patient, the implant treatment can proceed. In the meantime, before the implant treatment commences, a temporary tooth can be provided."

Dr Neil adds, "Pregnant women that need implants, where possible, are usually advised to delay treatment until after the birth of their baby."
How do I find out if I am suitable for teeth implants?
If you are considering dental implant treatment and want to find out more, dentists featured on click4teeth offer a free short exploratory consultation. Book a free initial consultation.
If you decide to progress, the next step would be a clinical consultation and diagnosis. This will involve a thorough check of your medical and oral history. The implant dentist will examine your mouth and usually X-rays, photographs and models of your teeth will be taken.
All the information will be used by the dentist to determine the correct position for an implant, how many implants should be placed and help establish the volume and quality of bone in your jaw.
The consultation will assist the dentist in planning the implant treatment, providing you with a written treatment plan and the costs involved.
A thorough clinical consultation will enable you to make a proper informed decision about your treatment.
How do implants work?
A dental implant is an artificial tooth root and permanently replaces the root of a natural tooth. Usually made of titanium, the implant is inserted into the jaw. Eventually the jaw bone fuses with the implant resulting in a secure attachment, a healing process called osseointegration.
The titanium implants support replacement teeth such as single crowns, multiple tooth bridges and dentures.
Once in place and fitted with artificial teeth, dental implants help to continue to stimulate and preserve bone. Eating and chewing encourage the bone to become stronger and stronger.
Can dental implants always be used to replace missing teeth?
In addition to your general oral health, a key requirement for dental implants is having enough bone in your jaw. If you don't, then it can usually be rebuilt using a procedure called bone augmentation. See bone grafting for dental implants for further information.
If the bone in your jaw is not deep or wide enough, you may need bone grafting before implants are placed. This is because chewing is a powerful action and can exert a lot of pressure on the jaw. Implants need to be large enough to resist the forces of chewing and so there needs to be enough bone to support the size of implant. If the bone can't support it, then the implant is likely to fail. A bone graft can increase bone volume in order to create a solid, reliable base to anchor the implant.
Bone loss can occur because of lack of chewing stimulation caused by long-term missing teeth, denture use, gum (periodontal) disease and through ageing or injury.
Your dentist can conduct tests to check bone health and volume, and discuss the many different ways to rebuild it.
Can I still have implants if I've lost all my teeth?
Depending on the specific condition of your mouth, there may be several treatments available to you if you have lost all of your teeth.
It is possible to replace an entire arch of teeth (the whole upper set or the whole lower set of teeth) using an implant-supported, permanently fixed, full arch bridge. This is held secure by four, six or eight tooth implants, so it works like a natural set of teeth and can only be removed by a dentist.
Another option is an implant-supported, clip-retained bridge which can be removed for cleaning by the wearer. Both options are supported by implants and do not rest on the gums.
Denture wearers can choose to have a conventional denture held in place by at least two dental implants (implant-retained denture). The denture is prevented from moving around by implant locator clips and can be removed by the wearer for cleaning. The denture is not supported by the implants, they simply hold it in place and the denture rests on the gum.
Alternatively patients can choose implant-supported dentures that do not rest on the gum, as they are supported by and attached to implants. They can be permanently fixed or removable.
Dr Alan Carter of Dentistry@ No 3, Dunfermline says, "I have used implants to help retain dentures when teeth are lost, which previously had held the partial denture in place. This can be easy to fit for a patient with reduced mental or physical capability. Thus their previous familiar old plate can have its life extended and they don't have to become accustomed to a new denture."
Can I wear my denture during the course of implant treatment?
You may be fitted with a temporary denture during the dental implant treatment process.
Temporary dentures are made before any extractions or surgery to removed damaged teeth. They are placed immediately after the surgery and help to maintain the shape of the face during the healing process. Gums may shrink as they heal, so permanent dentures are made after healing has taken place for an accurate fit.
If you already have full dentures, they can be modified so that you can wear them when undergoing treatment. Removable bridges can also be worn temporarily before permanent teeth restorations are fitted.
Dr Colin Neil comments, "If you are suitable for same day teeth and immediate restoration, you will not need to wear temporary dentures because your replacement teeth will have already been attached to your implants on the same day as surgery."
Are implants safe and how long do they last?
Implants have become widely used by dentists and are usually considered the treatment of choice for a missing tooth.
Just as with other surgical implants in the body there can be no lifetime guarantee. But well-maintained implants placed into adequate bone are likely to last for many years or possibly for the rest of your life. They are a safe, well-established treatment when expertly fitted and properly cared for.
The best way to take care of your implants is to maintain meticulous daily oral hygiene and have regular check-ups with your dentist. If you don't look after your implants you may develop gum infections, bleeding, soreness and general discomfort, just as you would with your natural teeth.
The Association of Dental Implantology (UK) says, "It could be probably said that implants will last as long as natural teeth."
Are dental implants successful?
Dental implants have a very good success rate. According to The Association of Dental Implantology (UK), dental implants are successful in ninety-five per cent of all treatment cases. Implants are a reliable, predictable way to replace missing teeth.
Dr Colin Neil believes that dental implants are, "the gold standard method for replacing missing teeth, problematic bridges or dentures."
It's never too late to consider dental implants
Due to medical developments the average population is living longer, resulting in more people experiencing the need for long-term, permanent fixed teeth.
Modern dentistry with advanced techniques, high quality materials and procedures such as bone and gum grafting, allow more people to take advantage of implant treatment and experience the many benefits.
This article was written with advice from: