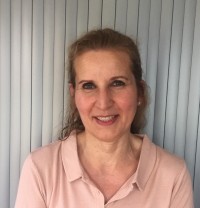 DENTAL IMPLANT CASE STUDY
Dental implants have given me a comfortable and confident smile
Sylvie suspected that a lot of her dental problems were hereditary but was adamant that she didn't want to end up with a denture like her grandmother.  Her busy job as cabin crew meant she was travelling and dealing at close quarters with the public.  It was important that her mouth was pain free, and that she was confident when talking and smiling.  She decided that dental implants were the answer.
Sylvie explains, "Each time I lost a tooth, I wanted a replacement that looked and felt real.  I didn't want to leave a gap as remaining teeth can move into the space, and I was looking for a stable, fixed and long-term solution.  I knew that implants would provide a sturdy foundation."
Successful implant treatment
Dr Greg Theodorou at W Dental Smile Studio, Woodley first provided implant treatment for Sylvie in 2005.  Bridgework in the lower right area of her mouth had failed, so two implants, one for each tooth, were placed.  A few years later, Greg placed two implants in the lower left of her mouth to support a three-tooth bridge.  He comments, "Sylvie's implants were placed into good bone and are all still going strong.  More recently, in 2013 she had another implant in the 'upper right six' following bone augmentation."
Three years later, Sylvie had an upper tooth extracted, which was followed by dental implant treatment.  She is currently undergoing bone augmentation before her latest dental implant can be placed.  Sylvie says, "At the moment I have a temporary tooth and will have an implant in a few months after new bone has grown, which is well worth the wait."
Easy and convenient therapy
Patients have reported that having implants placed can be far less inconvenient than having a tooth removed or root canal treatment.  The process is generally easier and more comfortable than most people imagine.
Sylvie adds, "I would consider myself a nervous patient and Greg understands that I can't deal with pain.  The previous problems with my teeth caused me a lot of discomfort and, with my job, being in pain is not an option.  Implant treatment has helped to resolve this, and I was surprised to find that the procedure was not at all painful."
Sylvie found that her implants were easy to maintain.  She keeps them clean and visits a hygienist regularly.  They should be cared for in the same way as normal, healthy teeth by daily brushing, flossing and attending regular check-ups.  According to the Oral Health Foundation, "If your implants are well looked after, and if the bone they are fitted to is strong and healthy, you can expect them to last for many years."
Sylvie has been a patient of Dr Greg Theodorou for 20 years and she trusts him implicitly with anything to do with her teeth.  "I wouldn't see anyone else but Greg.  He understands that my pain threshold is low, and the implant treatment has helped me immensely with my comfort and confidence."