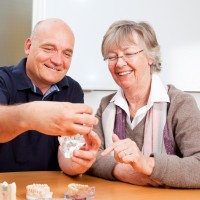 Dental implant treatment step-by-step
Preliminary consultation (non clinical)
For patients who are considering dental implant treatment and want to find out more, many dentists are happy to provide a short preliminary discussion free of charge.
Clinical Assessment
The dentist carries out a thorough clinical examination, including X-rays or possibly a CT scans.  On the basis of this information, the dentist assesses the patient's suitability for treatment with dental implants.  The treatment options are then planned and the costs carefully worked out before the treatment begins.  The programme and options are finally presented to the patient in a written plan.
Preparation
Any treatment that needs to precede the implant treatment is first carried out.  This might include extracting any remaining teeth that are beyond recovery.  If required, bone grafting and any other preparatory surgery is undertaken.  Following surgery, a period of healing will be necessary, after which the patient normally attends a review to check that the results are satisfactory to proceed with implant placement.   It is also possible that no preparatory treatment will be required in your case.
Implant placement
The required implant(s) are inserted carefully and painlessly into the patient's jaw bone.  The treatment is normally carried out under local anaesthetic or intravenous sedation.  Each implant is then allowed to fuse with the bone.   Sometimes the patient may need to wear a temporary restoration while the implants are healing.
Fitting the replacement tooth/teeth (implant restoration)
The process for restoring dental implants is similar to a conventional crown, bridge or denture. 
After the implants have had time to integrate with the jaw bone, they are uncovered and the abutments are fitted on top.  Abutments are the posts onto which the replacement tooth/teeth will be fitted.
Impressions are then taken of the patient's gums, together with the abutments.  The impressions are sent to the dental laboratory for the teeth (or prosthesis) to be manufactured.
Once the crown, bridge or denture which goes on top of the implants has been produced it is fitted by the dentist and carefully checked.
After a few weeks, the patient attends the practice for a review, to confirm that everything is satisfactory.
Same day teeth (immediate placement)
Sometimes, a replacement tooth or teeth can be fitted on the same day as the implant is inserted.  This is called 'an immediate implant'.  Whether this is possible depends on the patient's oral clinical condition and the type of treatment that is required.  Consult an implant dentist to find out more.
Page compiled with assistance from Dr Philip Bennett