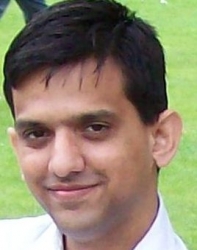 Tooth implant dentist Dumfries, Dumfries & Galloway, Scotland
Dr Hemant Yadav
BDS, MSc (Dental Implantology)
Dr Yadav holds a Masters in Dental Implantology from the University of Salford and has been placing implants since 2006.  His experience ranges from single units to multiple full arch cases and bone grafts and he works closely with referring dentists, encouraging them to restore their own implant cases.  Hemant is a member of the British Dental Association and the Association of Dental Implantology.  He graduated from Manipal University in 2000.
Patient consultations
Patients just beginning to think about dental implant treatment may find it helpful to attend a complimentary preliminary consultation with Dr Yadav. This appointment does not include a clinical examination and it only takes 15 minutes.  The discussion will help you consider the options for treating your dental problems and decide whether to proceed to a clinical consultation for implants.  The preliminary consultation is free of charge for visitors enquiring through this website.  Please use the button in the right hand column to request an appointment.
Once you have decided in principle that you would like implant treatment, the next step is a clinical consultation.  This includes a comprehensive oral examination, and results in production of an individual plan for your treatment.  The fee for the clinical assessment appointment and provision of your personal treatment plan is £60.  This includes any small X-rays required.  The cost of the treatment planning consultation is refunded when you proceed with the treatment.
Main implant treatments and procedures offered
 Single units
 Multiple full arch cases
 Bone grafts
Patient testimonials
"When Dr Hemant Yadav suggested implant treatment to me, I was naturally worried and unsure whether to go ahead as I did not know what was involved.  But right from the initial consultation, when the procedure was thoroughly explained, through the preparation and finally the implant, everything went extremely well.  Everyone looked after me so well I had no reason to worry.  I would most definitely recommend the practice and treatment to anyone."
"I would like to recommend Dr Hemant Yadav for the first class treatment and care I have received over the last 18 months.  The treatment was planned and completed over several appointments with Dr Yadav always making clear what he would be doing. His service and that of his staff have helped transform my teeth to allow me to smile confidently again.  I can't thank him enough."
Additional information
The practice principal Dr Philip Bown accepts referrals for advanced restorative and cosmetic cases.
The practice offers finance options.
Implant case referral policies, procedures and administration
We accept  patient and dentist referrals for all types of cases related to implants.  We strive to involve the referring dentist in the treatment process and planning  and the patient is returned to the practice at the end of the treatment.