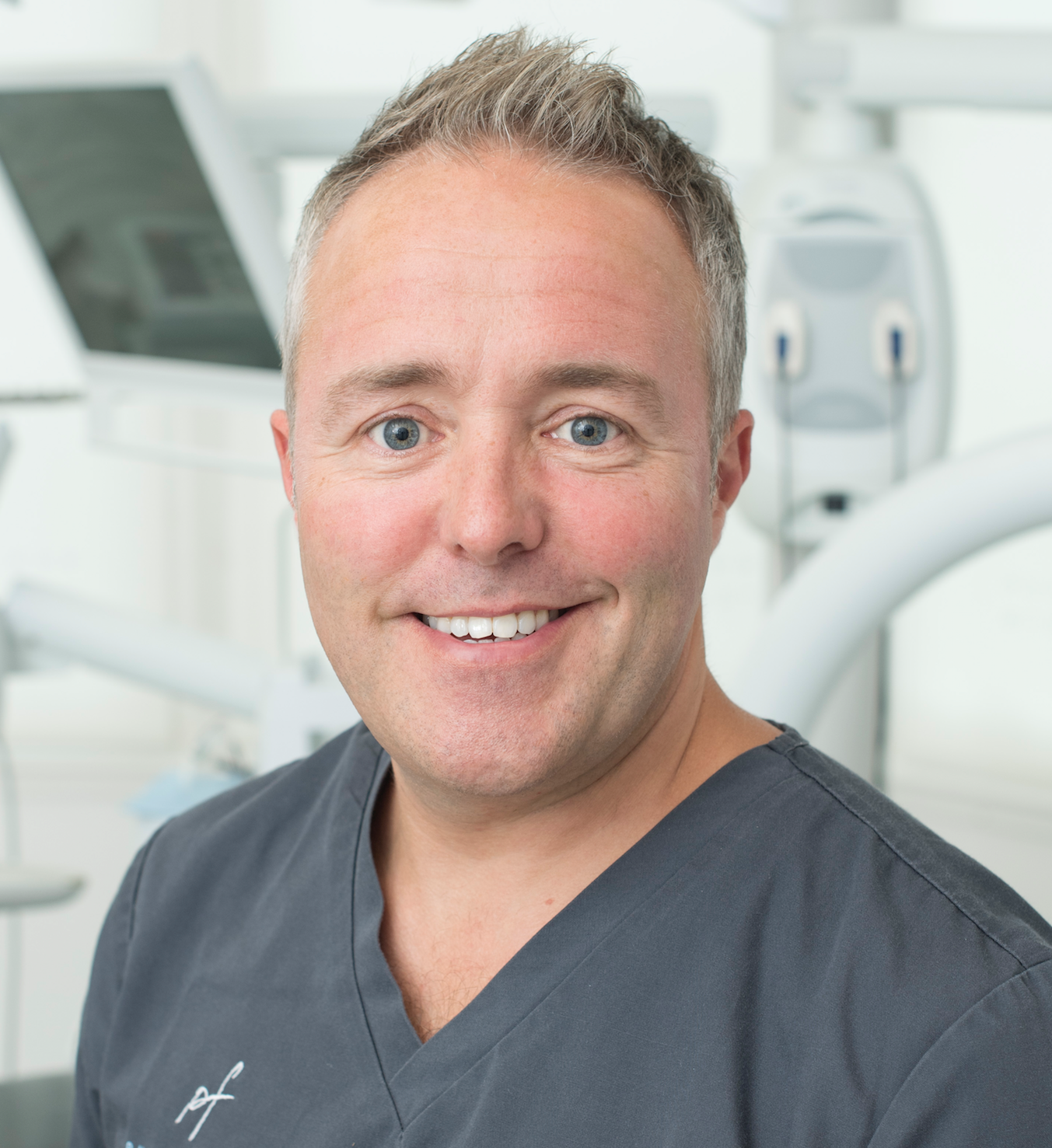 Tooth implant dentist Hyndland, Glasgow, Scotland
Dr Philip Friel
BDS BSc (Hons MedSci) MFDS RCS (Edin) MRCPS (Glas) GDC No 77637
Dr Philip Friel has a particular interest in dental implantology and has undertaken many years of focused implant training in the UK and overseas to ensure he offers the best possible standard of patient treatment and care.  Philip has placed more than 2500 implants and he is a member of both the Royal College of Surgeons of Edinburgh and Royal College of Physicians and Surgeons of Glasgow.  In 2010 he was named in the UK's Top 50 most influential dentists. He is a past president of the Association of Dental Implantology UK and graduated from Glasgow University in 2000.
Patient consultations
Free Preliminary Consultation
For patients considering implant treatment, Dr Friel offers a free preliminary consultation.  This appointment does not include a clinical examination and it takes 30 minutes.
The discussion will help you consider the options for treating your dental problems and decide whether to proceed to a clinical consultation for implants.  The preliminary short consultation is free of charge for visitors enquiring through this website.  Please use the button in the right hand column to request an appointment.
Once you have decided in principle that you want implant treatment, the next step is a clinical consultation.  This includes a comprehensive oral examination and production of a fully-costed individual plan for your treatment.  The fee for the clinical assessment and treatment plan is £175, including X-rays/CT scans.
Main implant treatments and procedures offered
Implant-retained dentures
Implant-supported dentures
Single implant surgery
Multiple implant surgery
Immediate implant placement
Immediate implant loading
'All-on-four' procedures
Bone grafting and sinus lifts
Full mouth rehabilitation
Implant hygiene and maintenance
Patient videos
Patient testimonials
"I am delighted with my new implant. Following a root fracture, I was devastated at the thought of losing a tooth.  I can, however, now testify to having undergone this treatment pain and anxiety free. So much so, I hadn't realised the initial implant placement had taken place."
"Quite simply, my decision to have implants done by Jillian Clare at Philip Friel dental surgery is one of the best I have ever taken.  The final result is completely convincing and aesthetically exactly what I envisaged.  The treatment throughout the process was clearly state-of-the-art and absolutely meticulous."
Additional information
Philip Friel is joined in his practice by another dentist experienced in the field of dental implant treatment. Glasgow University graduate Jillian Clare (GDC No 75914) has been placing and restoring implants for more than 10 years.
The practice also offers sedation.  Philip Friel can see patients for dental implant surgery/treatment across Scotland by arrangement at the following locations:
Lochthorn Dental Clinic
Lochthorn Dental Clinic
Lochthorn Medical Centre
Edinburgh Road, Dumfries DG1 1TR
Telephone: 01387 255 563
Oban Dental Clinic
Oban Dental Access Centre
Lorn and Islands Hospital
Glengallan Road, Oban PA34 4HH
Telephone: 01631 571 125
Culloden Dental Care
Culloden Clinic
Keppoch Road
Culloden, Inverness IV2 7LL
Telephone: 01463 795187
Implant case referral policies, procedures and administration
All referral types are welcomed. Referring dentists are kept fully informed of planning, options and progress of treatment.
We work closely with and mentor GDPs who wish to incrementally introduce dental implantology into their treatment offering. This is by prior arrangement and such mentoring includes treatment planning, extraction techniques, grafting to maintain bone following extraction and the restoration of dental implants.
The clinic works closely with referring dentists who wish to learn more about dental implant treatments with a view to being able to offer these treatments themselves, following completion of appropriate training. We offer mentoring services and regularly run introductory courses in the clinic.
Dentist testimonials
"Phil's dentistry is of the highest possible standards and I trust him impeccably with my teeth. Phil has carried out complex implant treatment on myself and all procedures were completely painless with minimum post-operative discomfort. I thoroughly recommend Philip Friel for dentistry."       
Dr Cathy Sinclair, Barnhill Dental Practice in Broughy Ferry, (referring dentist and patient)
"The results of my treatment speak for themselves, my initial hopes were to have a smile that was natural, I didn't want to appear as if I'd had my teeth done...
As a dentist myself I was always going to be hard to please, but the care and attention to detail that both Dr Friel and his technician put in to ensure the final results humbled me..."
Dr David Bell, Ireland, (referring dentist and patient)