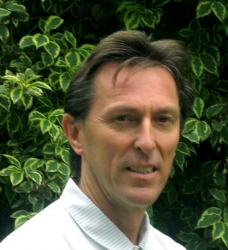 Tooth implant dentist , Winchester, Hampshire
Dr Steve Larcombe
BDS (Syd) DGDP (UK) GDC No. 60398
Dr Steve Larcombe qualified from Sydney University and his postgraduate education included a year course, in 1991, in Surgical and Reconstructive Dentistry involving dental implants. In 1996, Steve completed the Diploma in General Dental Surgery and is very experienced in the provision of safe intravenous dental sedation. He runs one-day dental implant courses for general dental practitioners at his surgery and is a course tutor in Bristol, focusing on dental implantology, anatomy and procedures.  Steve is a Fellow of the International Congress of Oral Implantologists, is currently chairman of the Wessex Dental Implantology Society and a registered mentor with the Association of Dental Implantology.
Patient consultations
Patients just beginning to think about dental implant treatment may find it helpful to attend a complimentary preliminary consultation with the dental implant co-ordinator, Suzanne Garrett, at Dr Larcombe's dental implant centre. This appointment does not include a clinical examination and takes 15 to 20 minutes.  The discussion will help you consider the options for treating your dental problems and decide whether to proceed to a clinical consultation for implants.  The preliminary consultation is free of charge for visitors enquiring through this website.  Please use the button in the right hand column to request an appointment.
Once you have decided in principle that you want implant treatment, the next step is a clinical consultation, examination and investigations.  This includes a comprehensive oral examination, and results in production of a fully-costed individual plan for your treatment.  The fee for the clinical assessment appointment and provision of your personal treatment plan is £95 including small film radiographs (x-rays).  CBCT scans are charged separately at a cost of £120.  Panoramic radiographs are charged separately at £50.  The cost of the clinical assessment appointment is refunded when you proceed with the treatment.
Main implant treatments and procedures offered
Dental implant placements
Single, multiple teeth and full arch
Bone grafting procedures
Sinus augmentation procedures
Soft tissue graft procedures
CT scanning available
Intravenous sedation
Teaching for referring dentists
Patient videos
My implant teeth
They feel good, look good and work well when eating
"Hi Steve.  Just to let you know my [implant-supported] denture is fitting perfectly and to thank you for the work that you have done on my teeth.  They feel good, look good and work well when eating.  I have to say that my time at your surgery was probably the best experience I've had in any dentist, and your meticulous attention to detail has shown in the end result.  Kind regards."
Peter Suddaby, Romsey
I do not embarrass my girlfriend when I open my mouth!
"I had numerous missing teeth; many of the remainder had been filled so often as to be beyond further repair and there were gum infections in various places. Eating was often awkward and uncomfortable and I was embarrassed about smiling or laughing.
Several teeth were removed, gums disinfected in places, and implants fitted over a period, together with repaired and re-built fillings, new crowns and a special bridging plate designed and built. It was conducted with great patience and consideration by Steve Larcombe and his staff. I appreciate the time and care taken in re-shaping and refining my new teeth where needed, ensuring the fit and biting action was as near perfect as possible!
I can now smile and laugh unselfconsciously, can eat with confidence and do not embarrass my girlfriend when I open my mouth"
Berry Walling, Southampton
It's nice just to smile
"My top teeth have had extensive work done to them over the past 30 years in a bid to "save" them.  Unfortunately, despite restorative work, my gums had receded and most of my teeth were becoming loose.  After a visit to my NHS dentist and the extraction of another two teeth he fitted me with a denture.  After 2 days I knew that I could not wear it for the next thirty years so I investigated dental implants.
The practice was recommended to me and I booked in to see Steve for a consultation.  He recommended fixed teeth supported by four dental implants.  As with most people I had a fear of dentists and as I found Steve's manner to be extremely calm and reassuring and his knowledge so in-depth, decided he was the man for the job.  The first stage of treatment was the removal of 4 teeth, bone augmentation and the placement of 4 dental implants.  Unfortunately, one of my implants failed and after further consultation I decided I would rather have my remaining four teeth extracted and have a full arch implant supported bridge.  I trusted Steve's judgement throughout and it became clear that he is quite a perfectionist which is exactly what you need if you want the final outcome to be the best. 
At the age of 47 the decision to have all my teeth out was a difficult one, I had got used to my dysfunctional teeth and learnt to communicate without showing them.  Like wise I always smiled with my mouth closed.  It was quite emotional to see my reflection in the mirror after the final fit and I am still getting used to smiling with my mouth open. 
It hasn't changed my confidence or how I feel about myself but it has given me a freedom.  I used to be embarrassed of my teeth so the effort I took to hide them is gone.  It's nice to just smile."
Julia Parker, Totton, Southampton
The smile is back!
"I am delighted to give this feedback that can be shared with other clients, who like me are perhaps not sure whether to have dental implants. After seeing the x-rays in June 2014 following repeated infections, I took the major decision to have implant surgery. Steve took me through the options, timescale and cost before we decided upon fixed teeth supported by dental implants. Finally after allowing a period of healing the bridge was tested, adjusted and applied returning my smile to one my wife and I recognised from several years back. Throughout the whole process Steve's 
manner, professionalism and eye for detail meant I felt no regret at any stage on taking this journey. Steve made the whole experience one that I look back on with a smile.  
The smile is back!"
Roger Mead, Winchester.
Patient testimonials
"I now have a good front tooth matching well with the others and much admired by my family and friends. One month on and I am barely aware of any difference with the surrounding teeth. Most importantly I can now eat apples and corn-on-the-cob without the risk of my tooth coming out"

"Thank you for my new winning smile and 'ring of confidence' look. I am so glad that the decision to have implants has been rewarded with such a successful outcome."

"It really is the very best thing I could have done for my well-being. I do find that I can eat many things which I was not able to do when I had dentures. The pleasure I get from eating apples, steaks and other food is just amazing.
When I decided to have implants I really never expected them to change my life as much as they have, but I am eating and sleeping better. I am more confident and I laugh a lot more because I really am very proud of my lovely smile. At times I forget that they are not my natural teeth."
Additional information
Winchester Dental Implant Centre offers the services of a visiting endodontic consultant, an in-house orthodontic specialist for combined cases and hygienist services. 
Implant case referral policies, procedures and administration
We welcome referrals for all types of dental implant treatment.  Surgery only or surgery, prosthetics and implant maintenance options are available. Once treatment is complete the patient is returned to the care of their general dental practitioner.  
Referrals can be made by using the case referral form on this page or by contacting the practice.