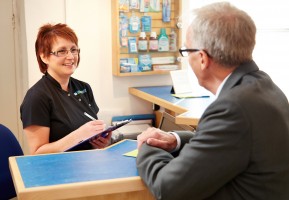 Access made easier to life-changing dental implant treatment
Dental implants can give the millions of people with missing teeth a second chance to have a healthy mouth.  In the UK at least six per cent of adults have no teeth at all, almost twenty per cent wear dentures and many more have gaps filled by dental bridgework*.   Access to an implant dentist who can provide natural-looking replacements, using the latest titanium implants has never been easier.   A referral from a dentist is no longer necessary, thanks to click4teeth.com, a website that links patients directly with their nearest dental implant clinic.
Dental implants are permanent replacements for failing or missing tooth roots.  They are the only method of replacing the whole tooth.  Titanium supports replace the root of the tooth and hold replacement teeth such as single crowns, multiple tooth bridges or even full dentures.  Once they have fused to the jawbone and are fitted with artificial teeth, dental implants help to continue to stimulate and preserve bone.   According to the Oral Health Foundation, "Over the long-term, implants are usually a more cost-effective and satisfactory option."
Joe underwent teeth implant treatment with Dr Sarab Oberai of Ashford Village Dental Practice.  He had lost seven teeth in his upper jaw, leaving him unable to eat certain foods and struggling to smile properly.  After implants replaced his missing molars and front tooth, Joe was amazed that he could eat and chew all his favourite foods again.  He said, "I ate peanuts for the first time in years recently.   I'm not afraid of biting into an apple. I used to have to be selective with my food choices.  But now after implants, I'm looking forward to enjoying a piece of steak!"
Roland, a patient of Dr James Main in Glastonbury, lost one of his front teeth as a result of a work-related accident.  He was very unhappy with the denture he had to wear.  "It didn't feel quite right.  It was loose and uncomfortable all the time.  I also didn't feel confident smiling with a loose denture."   An implant replaced the missing tooth and four years later, Dr Main also recommended that Roland replace a failing, adjacent tooth with another implant.  Roland comments, "The new teeth feel just like normal teeth.  They are really easy to care for.  I don't have to take anything out to clean every day.   Best of all, I can smile without thinking about it!"
Click4teeth.com is the only independent online directory of implant dentists in the UK.   Patients can easily find their nearest implant dentist and can book a free initial consultation online.  The website contains detailed information on the implant procedure, answers frequently asked questions and features testimonials from patients who have already undergone life-changing dental implant treatment.
Step-by-step guide to tooth implants
*Source – The Adult Dental Health Survey 2009, published by The NHS Information Centre for health and social care.