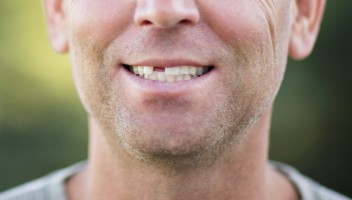 All I want for Christmas is my two front teeth!
The millions of people with missing teeth wanting a new, healthy smile in time for Christmas should plan ahead.  Now is the time to contact a dentist about dental implants to get rid of unsightly gaps, failing bridgework and uncomfortable dentures before the festive season.
Dental problems are rarely more inconvenient than during the Christmas festivities.  The simple pleasures of Yuletide fare or meeting friends and relatives can be a worrying prospect.  For people who have lost one or more of their natural teeth, nuts, cranberries, iced fruit cake and roast dinners can all be difficult to eat. Kissing under the mistletoe, smiling and laughing can all too easily become an embarrassment.
Implant dentist Dr Martin Wanendeya, of Ten Dental, Clapham says, "There are so many positive reasons for having implants.  It really improves the confidence of a lot of people that we treat.  If you're missing a front tooth or have several loose teeth which have been holding you back, having implants to replace them is a massive confidence boost.  An implant is by far the best method of tooth replacement."
Now is the time for people to start thinking about implants, as the treatment can take up to three months to complete. The website click4teeth.com speeds up the process by putting patients directly in touch with their nearest implant clinic. There is no need for a referral from your own dentist.  Patients simply use the search facility to find a local dentist and contact them via click4teeth.
Dental implants are permanent replacements for failing or missing tooth roots.   Titanium implants are used in place of the natural root beneath replacement teeth, such as crowns, bridges and dentures.  The implant is inserted into the jaw and usually left to fuse with the jawbone before a false tooth is fitted.  This process is called osseointegration.  It produces a secure bond between the tooth and the surrounding bone.  According to the Oral Health Foundation, "Over the longer term, implants are usually a more cost-effective and satisfactory option." 
Dental implants can give patients back their ability to eat, chew and be confident in life.  A lady in her forties suffered for eight years with the pain and embarrassment of a failing front tooth.  She explains how her life changed after an abscess caused her front tooth to drop, "I couldn't eat properly as the tooth was very painful, I had to put food to the sides of my mouth to be able to bite and chew.  I didn't want to go out for meals or to friends' birthday parties.  If I had to eat in a public place, I would make excuses and find somewhere out of the way to sit.  Having my photo taken was horrendous – I wouldn't smile and would look serious, which isn't me at all!"
Dental implants are the gold standard for tooth replacement, but accessing them can prove difficult.  That's why the patient website click4teeth was created.  Click4teeth.com is the only independent online directory of implant dentists in the UK.   Now anyone wanting a tooth implant can easily find and contact their nearest implant dentist.
The number of people in the UK who could benefit from dental implants runs into millions. At least six percent of adults have no teeth at all, almost twenty percent wear dentures and many more have gaps filled by dental bridgework. (Figures taken from the Adult Dental Health Survey 2009, published by The NHS Information Centre for health and social care).
Dental implants are overwhelmingly a private treatment as the procedure is only available on the NHS if there is a medical need. Over 2,000 dental clinics throughout the UK offering dental implants are listed within the online directory on click4teeth.com.
For more information from click4teeth.com, book a free initial consultation with an implant dentist.