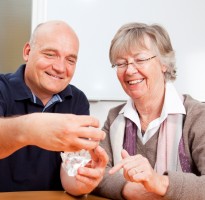 Choice of dentist key factor for dental implant success
Patients are advised to do their homework before choosing an implant dentist, according to an article, which recommends patients check that a dentist has the necessary implant training and experience.   There are over 2,000 dentists in the UK who provide dental implants, but their level of training and experience in implantology can vary.
Dental implants help to improve the quality of life for many people with missing teeth. The article published on click4teeth.com concludes that choosing the right implant dentist is a key factor for dental implant success.  
UK dentists can take advantage of structured opportunities for training in implant dentistry.  The Faculty of General Dental Practice (FGDP UK) states:
"Dental implants are used to replace one or more missing teeth.  Their insertion involves various surgical and restorative dental procedures and therefore dentists placing implants must be competent to carry out these procedures.  The dentist must have undertaken suitable postgraduate training and assessment, which has included practical implant placement."
To view the full article, visit "How do I choose a dentist for my implant treatment?"