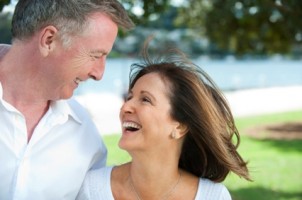 Dental implants help increase function and confidence
Dental implants can be life changing for those who have lost teeth, according to an article based on the experience of implant patients.  People who have undergone the treatment say teeth implants can give back the ability to smile, eat, bite, chew, taste and speak with confidence.
People with missing and failing teeth have been helped by implants to regain the function they may have once taken for granted.   In the article published on click4teeth.com patients describe how dental implants have helped them to:
eat confidently in public and enjoy a meal out
smile properly for the first time in years
feel like a young girl again
bite into an apple and taste food for the first time in 30 years
eat chops and steak with secure teeth
no longer fret that their teeth will let them down in social situations
smile without thinking about it
Dental implants can help give patients back their quality of life.  For people who have lost one or more teeth, dental implants represent the closest thing they can get to a second chance.
An implant patient says:
"I was so embarrassed to smile and now I can smile broadly and laugh heartily with total confidence.  My mouth looks like that of the girl I once was and I feel like a young girl again!  What a boost to my morale!
I am totally delighted with the results and would recommend dental implants without hesitation."
To view the full article, visit "Get your life back on track after tooth loss."