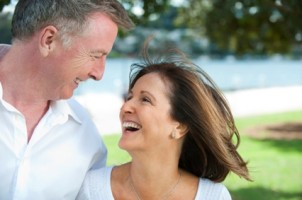 Look and feel your best with dental implants
An older looking face can be the result of missing teeth.  For the millions of people in the UK who have lost teeth, putting up with unsightly gaps, shrinking jawbones and loose dentures can be avoided.  Choosing dental implants for tooth replacement can maintain the facial profile, helping people to look younger and feel more confident.
Natural teeth are embedded in the jawbone, which is stimulated by chewing and biting.  When teeth are lost, the jawbone no longer receives the necessary stimulation and begins to shrink (resorb).  When jaw contours shrink, the result is wrinkled lips, and a sunken mouth and face.  This can make you appear to look older.
Dr Chris Woods of Greenside Dental Care, Cleckheaton says, "Teeth and gums provide part of the natural support and structure for the face.  Picture how someone looks before and after removing dentures.  This is what can happen when bone resorbs.  Bone needs stimulation to maintain its form and density.  After the loss of a tooth the width and height of the bone decreases over the coming years."
Dental implants are the only treatment for missing teeth that replaces tooth roots and prevents further bone loss.   A dental implant is an artificial tooth root which permanently replaces the root of a natural tooth.  Made of titanium, implants preserve and stimulate bone growth.  Once the implants are in place and fitted with artificial teeth, eating and chewing encourages the bone to become stronger and stronger.
Replacing missing teeth with dentures can also lead to bone loss and a change in facial appearance.  The bone beneath a denture shrinks because it is not being used, and chewing pressure onto the gum beneath reduces blood supply.  Dentures can also be uncomfortable and can cause problems with eating and speaking. 
Dr Woods adds, "Bone loss can increase when you lose teeth.  I see a lot of patients who are frustrated with their dentures.  Often their problems are caused by the dentures becoming loose as bone is lost.  Dental implants can help by supporting single crowns, multiple tooth bridges and dentures.  Implants prevent further bone loss, plus they look, feel and function like natural teeth."
A patient of Dr Woods, said, "I have recently had dental implants in my lower jaw to secure a denture.  I have struggled for such a long time with an ill fitting lower denture.  It has limited the food I have been able to eat.  I am delighted with my new 'rock solid' denture. 'Bring on the apples' I say. "
A female patient of Dr Don Weerasirie of Ocean Dental, Cornwall had three implants placed.  After the treatment she commented, "I was so embarrassed to smile and now I can smile broadly and laugh heartily with total confidence.  My mouth looks like that of the girl I once was and I feel like a young girl again!  What a boost to my morale!"
Both Dr Chris Woods and Dr Don Weerasirie are registered with click4teeth.com, a website that puts patients directly in touch with their local dental implant dentist, as well as providing a wealth of information on dental implants and the treatment process.
More information available from click4teeth:
Answers to common questions about dental implants