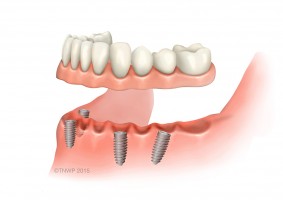 New smile in one day
Patients eligible for 'Same-day teeth' implants can arrive at the dental surgery in the morning with failing teeth, or total tooth loss, and leave by mid-afternoon with a full set of natural looking teeth, according to an article published on click4teeth.com.  Written with assistance from experienced implant dentists, the article explains how a minimum of four dental implants can be placed into the top or bottom jaw and a full arch of fixed replacement teeth attached to the implants on the same day.
Same-day teeth allow patients to enjoy the benefits of dental implants immediately after placement.  Patients have fixed teeth throughout the treatment, so are able to smile with confidence and eat a soft diet straightaway. 
The article published on click4teeth.com provides guidance to prospective patients:
Am I suitable for teeth in a day?
How do same-day teeth differ from conventional dental implants?
How do I find out if I am eligible?
What to expect on the day of the procedure
Benefits of fixed teeth in a day
How to find out more
Dr Graham Browning, one of the contributors to the article says, "Our patients like the fact that they come in with loose teeth or dentures and leave with fixed teeth.  One of our patients said that at last he has got the teeth he has always wanted!"
To view the full article, visit "Fixed teeth in a day."