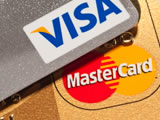 Survey of UK dentists reveals price of dental implants
The latest study* by click4teeth.com into the cost of dental implants has revealed that people with missing teeth can expect to pay around £2,418 on average for a single tooth implant.  A new set of teeth, consisting of an implant-supported full arch bridge for the top or bottom jaw, may cost on average £14,479.
The initial outlay for dental implants is higher than for a bridge or denture.  But these forms of traditional restorations will need to be regularly replaced to maintain fit and appearance.  Dental implants are a permanent replacement for missing teeth and should be viewed as a long-term investment.
According to the Oral Health foundation, "In many situations, the cost of the treatment is only a little more than the cost of conventional dental treatment with crowns and bridges.  Over the long term, implants are usually a more cost-effective and satisfactory option."
Find out more about the full survey results.
Click4teeth recommends that to understand the charges and benefits of dental implants, it is advisable to obtain a fully-costed treatment plan from an implant dentist.
 Book a free initial consultation with a local implant dentist.
*Based on a survey of more than 40 UK implant clinics, carried out during autumn 2019