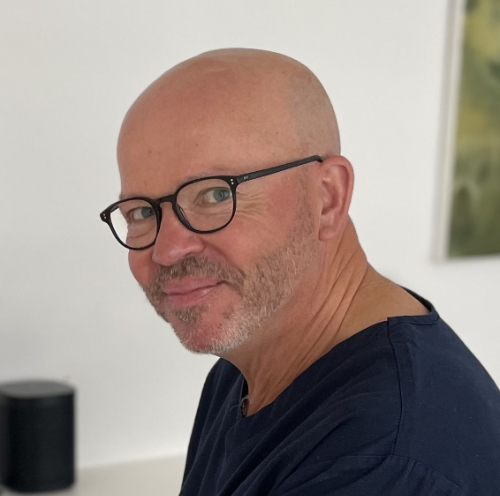 Tooth implant dentist Stratton Audley, Bicester, Oxfordshire
Dr Chris Wood
BDS MFGDP(UK) Dip Imp Dent (Adv) RCS Eng FFGDP (UK)
After gaining extensive clinical experience in hospital and private practice both in the UK and overseas, Chris Wood embarked on implant training at The Royal College of Surgeons and his practice has been focussed solely on implant dentistry for almost two decades.  Chris has gained further experience with some of the world's leading implant dentists in prestigious teaching schools in Germany, Austria and Italy and to date has placed approximately 4,000 implants.
He has a particular interest in bone grafting, immediate full-mouth restorations and the use of digital technology to facilitate treatment outcomes.  He is known for his calm and empathic approach with his patients and takes great care to communicate treatment options clearly and simply.
Chris qualified from London University in 1982.
Patient consultations
Free preliminary consultation
For patients enquiring about implant treatment via this website, Audley Dental Solutions offers a free preliminary consultation.  This appointment does not include a clinical examination and it only takes 15 minutes.  Please use the button in the right hand column to request an appointment.
Clinical consultation
Once you have decided in principle that you want implant treatment, the next step is a clinical consultation.  This includes a comprehensive oral examination and production of a fully-costed individual plan for your treatment.  The fee for the clinical assessment and treatment plan is £95 including relevant X-rays.
Main implant treatments and procedures offered
Single teeth
Implant bridges
Implant-supported removable dentures
Full arch implant restorations
'Same day teeth'
Bone grafting 
Treatment of diseased implants
Patient videos
Patient testimonials
"I've recently had my final dental implant appointment with Chris and I was amazed to see how well my new tooth fits and looks!  I am beyond happy with it!  Chris has always made sure that everything was explained to me from the first consultation throughout the whole process.  I've always been very scared of the dentist and was feeling very nervous leading up to my first implant procedure, but to my suprise I wasn't experiencing any pain and the procedure seemed quick and painless.  I am very grateful to Chris for giving me my smile back!"
"I was referred to Chris by my own dentist as I needed implants.  I had a lot of work done on my front teeth back in 2017.  Chris organised this to be done in one day.  Temporary teeth were fitted to go away with while gum was settling for my proper teeth.  Temporary teeth looked amazing too.  I have been back to get the teeth and gums checked by Chris, again treated so kindly by all staff."
Additional information
Chris works as part of a multidisciplinary team including:
Dr Martina Pirklova – Implant Surgeon
Dr Preeyan Patel – Specialist Prosthodontist
Dr Rachel Manning – Specialist Periodontist
Dr James Fitton – Endodontist
Implant case referral policies, procedures and administration
Referrals can be sent using the form in the Dentists' Area of this website, or via the referral portal on the practice website: www.audleydental.co.uk, or directly to enquiries@audleydental.co.uk, or by phone on 01280 848945.
Chris Wood is happy to support general dental practitioners who wish to restore implants and will mentor/train colleagues with the attainment of relevant clinical skills.
Dentist testimonials
"We asked Audley Dental Solutions to provide us with consultations and simple surgery in our central Oxford practice.  This has provided us with both a great expert service in house as well as an additional income stream for our business."
Dr Dan Molyneux, Oxford
"I have referred patients to Audley Dental Solutions for the past 5 years.  I have always found Audley Dental Solutions efficient and helpful and my patients have always been very satisfied with the treatment.  I would thoroughly recommend Chris as a 'safe pair of hands' to treat my patients."
Clare Edwards, Park Street Dental