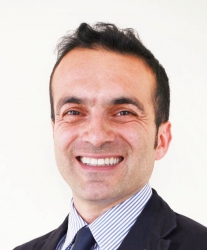 Tooth implant dentist Norwich, Norfolk
Dr Hamed Karimi
BDS(Edin) MSc(Lond) MClinDent(Lond) FDS MRD RCS(Eng)
Dr Hamed Karimi is an experienced specialist in Periodontics committed to excellence in treatment and patient care.  Having achieved an MSc in Periodontology and a Master of Clinical Dentistry at Guy's Hospital he was awarded Membership in Restorative Dentistry by the Royal College of Surgeons, one of the highest qualifications in the field of restorative dentistry.  Hamed taught at Guy's, King's and St Thomas' Dental School and lectures in the UK and internationally.  Dr Karimi is a member of the British Dental Assocation, the British Society of Periodontology, the Association of Osseointegration (USA), and the European Association of Osseointegration. He qualified in 1995 from Edinburgh University and is a Fellow in Dental Surgery of the Royal College of Surgeons of England.
Patient consultations
Patients just beginning to think about dental implant treatment may find it helpful to attend a complimentary preliminary consultation with one of our implant co-ordinators who will discuss the implant process and help answer any questions you might have.  This appointment does not include a clinical examination and takes 45 minutes.  The discussion will help you consider the options for treating your dental problems and decide whether to proceed to a clinical consultation for implants.  The preliminary consultation is free of charge for visitors enquiring through this website.  Please use the button in the right hand column to request an appointment.
Once you have decided in principle that you want implant treatment, the next step is a clinical consultation with Dr Karimi.  This includes a comprehensive oral examination, and results in production of a fully-costed individual plan for your treatment. 
Main implant treatments and procedures offered
 Single tooth implants

 

Multiple implant cases

 

Oral reconstruction

 

Treatment for gum disease
Additional information
The practice provides support to GDPs who wish to carry out simple restorative treatment.
Payment plans are available.
Implant case referral policies, procedures and administration
Referrals are accepted from general dental practitioners for all types of dental implant treatment.  Patients are treated only for the clinical situation for which they have been referred.  The referring dentist is kept informed of the patient's treatment and progress and once treatment is complete patients are returned to their own dentist for continuing care.
The practice runs regular courses and study clubs for GDPs.