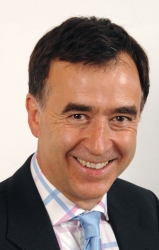 Tooth implant dentist Bury St Edmunds, Suffolk
Dr John Hare
BDS BSc MGDSRCS Dip Impl Dent RCS FDSRCS(Eng)
Dr John Hare has extensive experience in oral surgery, implant and reconstructive dentistry. He has been placing implants for over twenty years.  Dr Hare is a Fellow in Dental Surgery of the Royal College of Surgeons of England, and was awarded the Advanced Diploma in Implant Dentistry in 2005. He is also a member of the Association of Dental Implantologists UK.  John is an experienced teacher in minor oral surgery and has been running postgraduate courses for dentists for over fifteen years.  Dr Hare graduated from the University of Newcastle upon Tyne in 1985.
Patient consultations
Patients just beginning to think about dental implant treatment may find it helpful to attend a complimentary preliminary consultation with the implant co-ordinator or dental nurse.  This appointment does not include a clinical examination and it only takes 15 minutes.  The discussion will help you consider the options for treating your dental problems and decide whether to proceed to a clinical consultation for implants.  The preliminary consultation is free of charge for visitors enquiring through this website.  Please use the button in the right hand column to request an appointment.
Once you have decided in principle that you want implant treatment, the next step is a clinical consultation.  This includes a comprehensive oral examination, and results in the production of a fully-costed individual plan for your treatment.  The fee for the clinical assessment appointment and provision of your personal treatment plan is £95 including X-rays but excluding CT scans.    
Main implant treatments and procedures offered
 Single tooth implants

 

Multiple cases

 

Fixed bridges and full arch cases

 

Implant overdentures

 

Bone grafting and guided bone

 

regeneration

 

Sinus lifts

 

Socket preservation

 Oral surgery
Patient videos
Patient testimonials
"It is just over a year since my implant was placed. My dentist has finished the treatment and I have the crown on the implant and a new bridge alongside it. I now have a comfortable mouth and can once more smile with confidence. I am thrilled with the end result."
"Dr Hare was very caring, reassuring and patient with me. I was very happy with him."
Additional information
The practice offers orthodontic and hygienist services as well as intravenous sedation.
Implant case referral policies, procedures and administration
Referrals are accepted from general dental practitioners for all types of dental implant treatment.  Patients are treated only for the clinical situation for which they have been referred.  Once treatment is complete, patients are returned to their own dentist for continuing care.  Referrals are accepted for complete treatment or surgical treatment only, allowing the GDP to restore.