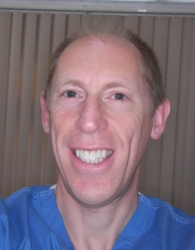 Tooth implant dentist St Ives, Penzance, Cornwall
Dr David Burgess
BDS DPDS MScConSed
David Burgess has been established in Carbis Bay since 1988 and started placing dental implants in 2000 after attending hands-on courses in Germany and London. He and his implant team are committed to continuing to further their knowledge and skills and regularly attend high quality courses and conferences. Many patients are offered treatment under sedation to improve their implant experience. David has a postgraduate diploma in conscious sedation and works closely with his qualified sedation nurse to provide high quality care with maximum patient comfort.
Patient consultations
Patients just beginning to think about dental implant treatment may find it helpful to attend a complimentary preliminary consultation with Dr David Burgess the implant dentist.  This appointment does not include a clinical examination and it only takes 15 minutes.  The discussion will help you consider the options for treating your dental problems and decide whether to proceed to a clinical consultation for implants.  The preliminary consultation is free of charge for visitors enquiring through this website.  Please use the button in the right hand column to request an appointment.
Once you have decided in principle that you want implant treatment, the next step is a clinical consultation.  This includes a comprehensive oral examination, and results in production of a fully-costed individual plan for your treatment.  The fee for the clinical assessment appointment and provision of your personal treatment plan is £82 plus the cost of X-rays/CT scans.  The cost of the treatment planning consultation is refunded when you proceed with the treatment.
Main implant treatments and procedures offered
Comprehensive assessment and treatment planning
Placement and restoration of dental implants using the Frialit 2, Xive and Ankylos systems
Single implants to full arch reconstruction
Bone augmentation
Sinus lift procedures
Block bone graft procedures
Post-treatment and after care programmes
Additional information
As well as dental implants we welcome referrals for routine and complex dentistry under sedation, both for children and adults. We have an established reputation within Cornwall for the high standards of referral care we offer.
Implant case referral policies, procedures and administration
Referral packs are available on request or referrals may be made via letter, fax or e-mail. Our dedicated referral co-ordinator will liase personally with all patients before, during and after treatment to ensure consistency, continuity and the highest level of patient care.