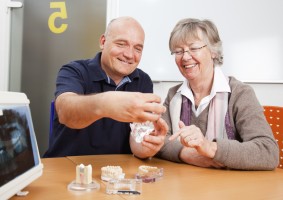 You are booked into a free initial dental implant consultation - what now?
If you have arranged an initial appointment with a dentist or implant coordinator to discuss tooth implant treatment, you are probably wondering what to discuss in the fifteen-minute meeting.  To make the most of your preliminary consultation, you should go prepared with questions to ask about the treatment and the dentist.
Click4teeth is here to help, with a handy list of eight questions you could ask during your free initial consultation, including:
What credentials or qualifications do you have for dental implant placement?
How long have you been placing dental implants?
How long will the treatment take?
These questions, and more, will enable you to go into your consultation with confidence and make the best use of the available time.  To read the full article, visit "Eight questions to ask your dentist during a free initial implant consultation".