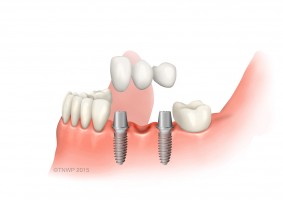 How did dental implant treatment evolve?
Dental implants are a modern tooth replacement option that has been available to patients for more than fifty years.  They can be used to replace anything from a single tooth to a full arch of missing teeth.  Over recent decades, the design of the tooth implant has been honed to provide an even more reliable treatment for missing teeth. 
In the past, however, less refined alternatives were practised.  According to an article published on click4teeth.com, tooth replacement materials throughout history included:
Carved bamboo pegs
Copper pegs
Animal teeth
Shells
Dental implants made from gold and metal alloys
Modern teeth implants are permanent replacements for failing or missing teeth, and help to restore your smile and function.  Click4teeth provides extensive information and resources for people considering the tooth replacement option.
To read the full article, visit "Dental implants now and then"