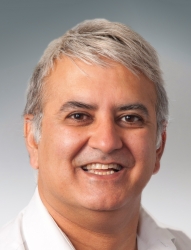 Tooth implant dentist Ashburton, Devon
Dr Mitesh Badiani
BDS DPDS
Mitesh Badiani has placed over 3000 implants since 1999 and is multi-disciplined in the use of various dental implant systems.  He is the clinical lead of six private practices.  In 2015, Mitesh was awarded National Dentist of the Year at the Dental Awards and also Dentist of the Year at the Primary Care Awards for his clinical expertise, commitment to patient care and his dedication to teaching and mentoring colleagues around the country. Mitesh was recognised with a life-time achievement award in 2014 for his dedication and charity work with medically discharged Royal Marines. 
Dr Badiani has lectured widely throughout the UK and abroad on dental implant treatment and also provides a variety of postgraduate courses for dentists with a special interest in this field.  
Patient consultations
Patients just beginning to think about dental implant treatment may find it helpful to attend a complimentary preliminary consultation with Dr Badiani.  This appointment does not include a clinical examination and it only takes 15 minutes.  The discussion will help you consider the options for treating your dental problems and decide whether to proceed to a clinical consultation for implants.  The preliminary consultation is free of charge for visitors enquiring through this website.  Please use the button in the right hand column to request an appointment.
Once you have decided in principle that you want implant treatment, the next step is a clinical consultation.  This includes a comprehensive oral examination, and results in production of a fully-costed individual plan for your treatment.  The fee for the clinical assessment appointment and provision of your personal treatment plan is £80 inclusive of intraoral and OPT if taken on site. The cost of the treatment planning consultation is refunded when you proceed with the treatment.
Main implant treatments and procedures offered
 Single and multiple teeth replacement
 Teeth in a day procedure
 Implant supported full or partial dentures, bridges and crowns
 Prosthetic to completion
 Sinus lifts and Sinus tent
 Autogenous bone grafts
 Soft tissue grafts
 Aesthetic case referrals
Patient testimonials
"I always recommend implants and, without hesitation, recommend your practice if they want a professional and first-class job done. You have given me back my confidence as I no longer need to hide my mouth behind my hand when talking. I now feel like a new woman, for which I thank you and all your staff"
"Thank you very much to everyone involved in my brand new implant. Congratulations Mitesh on a wonderful team who made me feel very comfortable about something that I was immensely scared about when I walked in your door. I have a very limited income and it was a big decision for me to use my savings for this. However you have all made me feel like a "whole person" again and I am so happy to be able to smile with confidence again!!"
Additional information
The Practice is equipped with a Cone Beam CT Scanner which offers a wealth of 3D information and high definition imaging.
The Practice has facilities for teaching and mentoring including the use of live surgery training via video link up from surgery to training room.
IV sedation available
Implant case referral policies, procedures and administration
Referrals can be made directly to the Practice via either telephone or post.
Dr Badiani is available to travel to any Practice in UK to provide all of the above treatments and all materials, implants, equipment and nursing staff provided.
Consultation and treatment planning support provided via internet and/ or telephone.
General dental practitioners are encouraged to undertake the restoration phase of the implant treatment for their own patients in straightforward referred cases.  FREE training in the restoration of simple dental implant cases is available.  To enquire about starting to restore dental implant cases for your patients, please contact Amanda Smith, Tel. 01364 652253
Email. info@devondental.co.uk
.