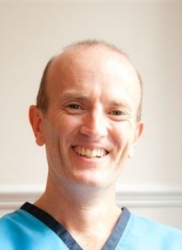 Tooth implant dentist Ivybridge, Devon
Dr John Gittins
BDS MFGDP (UK) DPDS (Bristol)
Dr Gittins has completed the Ankylos year course in Lyme Regis and is in the third year of the Bristol MSc in dental implantology.  He has 16 years  experience with intravenous sedation which is invaluable for implant cases.
Patient consultations
Patients just beginning to think about dental implant treatment may find it helpful to attend a complimentary preliminary consultation with Dr Gittins the implant dentist.  This appointment does not include a clinical examination and it only takes 15 minutes.  The discussion will help you consider the options for treating your dental problems and decide whether to proceed to a clinical consultation for implants.  The preliminary consultation is free of charge for visitors enquiring through this website.  Please use the button in the right hand column to request an appointment.
Once you have decided in principle that you want implant treatment, the next step is a clinical consultation.  This includes a comprehensive oral examination, and results in production of a fully-costed individual plan for your treatment.  The fee for the clinical assessment appointment and provision of your personal treatment plan is £65.00 including X-rays.  The cost of the treatment planning consultation is refunded when you proceed with the treatment.
Main implant treatments and procedures offered
 Individual crowns and bridges
 Overdentures
 Guided bone regeneration
 Sulcus manipulation
 Full arch restorations
 Flapless guided surgery
 Sedation
Additional information
The practice has its own digital radiography and access to 3D planning through SIMPLANT or SICAT planning software.  A comprehensive sedation service is also offered within the practice.
Implant case referral policies, procedures and administration
Highland Dental is delighted to accept all referrals related to implants and the patient will be returned to the practice at the end of treatment.
Alternatively practitioners wanting to restore their own implants can be offered support.