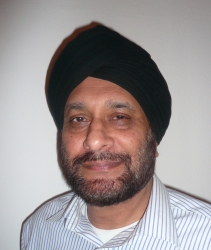 Tooth implant dentist Sutton Coldfield, Birmingham, West Midlands
Dr Hari Hunjan
BDS (Lond) MFGDP (UK) DPDS (Specialist in Oral Surgery) DipImpDent RCS (Advanced Bone Grafting)
Dr Harkirat Hunjan is a qualified oral surgeon running an expanding private referral clinic founded on implant dentistry, oral surgery and cosmetic dentistry.  He has successfully placed and restored over 2000 implants and encourages practitioners to restore their own implant cases. Hari was awarded the prestigious Advanced Diploma in Implant Dentistry at the RCS in London.  Dr Hunjan teaches both undergraduates and postgraduates in dental implantology and oral surgery and is an associate specialist in oral surgery at Birmingham Dental Hospital.  Hari qualified from St Bartholomew's and The Royal London Hospital in 1976.
Patient consultations
Patients just beginning to think about dental implant treatment may find it helpful to attend a complimentary preliminary consultation with Dr Hunjan.  This appointment does not include a clinical examination and it only takes 15 minutes.  The discussion will help you consider the options for treating your dental problems and decide whether to proceed to a clinical consultation for implants.  The preliminary consultation is free of charge for visitors enquiring through this website.  Please use the button in the right hand column to request an appointment.
Once you have decided in principle that you want implant treatment, the next step is a clinical consultation.  This includes a comprehensive oral examination, and results in the production of a fully-costed individual treatment plan.  The fee for the clinical assessment and personal treatment plan is £70.
Main implant treatments and procedures offered
Complex implant cases
Bone grafting and sinus augmentation
Dental implants - single unit to full arch restoration
Implant rescue
Connective tissue surgery
Dental alveolar surgery
High aesthetic cases
Patient testimonials
"I can smile unselfconsciously and eat comfortably, which is something I haven't been able to do for most of my life! I am very grateful for the patience and work Hari and his team put into my treatment and would not hesitate to recommend Hari to anyone considering this type of treatment."
"I lost two upper teeth and my dentist referred me to Dr Hunjan for implants. The ambiance and professionalism of Smile Solutions has been very reassuring. Dr Hunjan explained the treatment in detail with written costings. I did not like the thought of drilling into my jaw but found this no more uncomfortable than visits to the hygienist. I am thrilled and delighted with the finished result and would have no hesitation in recommending your practice for treatment."
Additional information
The practice also provides intravenous sedation and cosmetic dentistry.
Dr Hunjan also practices as a specialist oral surgeon at:
Dental Spa Solutions,
28-30 Hamilton Terrace,
Leamington Spa, CV32 4LY
Tel: 01926 311698
Implant case referral policies, procedures and administration
Referrals are accepted for all types of cases related to implants.
FREE training in the restoration of simple dental implant cases is available.