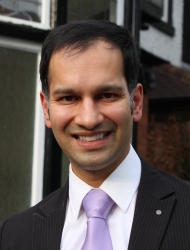 Tooth implant dentist Sutton Coldfield, Birmingham, West Midlands
Dr Puneet Jain
BSc (Hons) BDS (Hons) MJDF RCS (Eng) MFDS RCSEd DipImpDent RCS(Eng)
Dr Jain has recently completed the highly acclaimed Implant Diploma with the Royal College of Surgeons.  He provides all aspects of implant treatment from simple placements to full arch restorations and advanced surgical procedures and is particularly interested in the aesthetic aspects of implantology and how to optimise the outcomes of treatment modalities and protocols.  Puneet's work ethos is based on providing patients with high quality treatment and ensuring a happy and satisfied patient in the long term.  Puneet Jain graduated with distinction from Guy's Hospital London.
Patient consultations
Patients just beginning to think about dental implant treatment may find it helpful to attend a complimentary preliminary consultation with Dr Jain. This appointment does not include a clinical examination and it only takes 15 minutes.  The discussion will help you consider the options for treating your dental problems and decide whether to proceed to a clinical consultation for implants.  The preliminary consultation is free of charge for visitors enquiring through this website.  Please use the button in the right hand column to request an appointment.
Once you have decided in principle that you want implant treatment, the next step is a clinical consultation.  This includes a comprehensive oral examination, and results in production of a fully-costed individual plan for your treatment.  The fee for the clinical assessment appointment and provision of your personal treatment plan is £150, including X-rays/CT scans.  The cost of the treatment planning consultation is refunded when you proceed with the treatment.
Main implant treatments and procedures offered
 Replacement of one or more missing teeth
 Implant supported crowns, bridges and overdentures
 Full arch restorations
 Advanced surgical procedures
 Sinus elevation (direct and indirect)
 Block bone grafting
 Mentoring support at all levels of implant treatment
 Treatment planning
 CT scans
 Postoperative oral health, hygiene and long-term implant care
Patient testimonials
"Mr Jain is undoubtedly a technically gifted dental surgeon practising at the leading edge of his profession. He has an outstanding ability to empathise with the needs and aspirations of his patient. He told me exactly what he could do for me, and how he would go about this .... and he then went on to do precisely what he had said he would do. I experienced minimal pain and discomfort and noted marked improvements in my appearance and ability to eat comfortably at every stage of the treatment. Mr Jain's calm, professional and continually reassuring manner throughout the process gave me great confidence that I had selected a truly exceptional dentist and the ideal treatment plan."
"Throughout my treatment at each step I was kept fully informed as to what was taking place which I found reassuring, enabling me to relax and feel confident in his ability. I am very pleased with my new teeth but more importantly I no longer need to wear a denture, therefore I am more confident and no longer afraid to smile. Dr Jain is a consummate professional at all times, also a considerate gentle clinician. I would not hesitate to recommend him to anyone."
Additional information
The latest technology available at the practice includes a CT scanner, which is invaluable in implant treatment. The digital scanner provides incredibly precise 3D images in a fraction of the time of conventional x-rays, and with significantly less radiation. The scanner can be hired by other dentists for their cases.
Implant case referral policies, procedures and administration
We accept referrals for all types of cases related to implants. The patient will be returned to the referring practice at the end of treatment. We can also offer support to any practitioners wishing to restore dental implants or start placing their own.  General dental practitioners are encouraged to undertake the restoration phase of the implant treatment for their own patients in straightforward referred cases.  FREE training in the restoration of simple dental implant cases is available at evening training events or on a one to one basis at the practice by arrangement with Dr Jain.  To enquire about starting to restore dental implant cases for your patients, please call 0121 354 1922 or e-mail dcpsutton@gmail.com