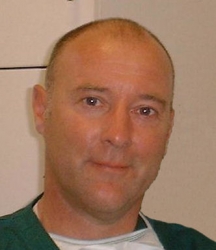 Tooth implant dentist Barnstaple, Devon
Dr Simon M Martin
MB ChB BDS(Bristol) FDS RCS(Eng)
Simon Martin is a medically and dentally qualified Specialist Oral Surgeon and a Fellow of the Royal College of Surgeons of England since 1991. He trained in Bristol and Bath where he has worked in Oral & Maxillo-facial Surgery managing all aspects of oro-facial pathology and trauma, including reconstructive surgery using titanium dental implants. He has also worked in General Surgery, Accident & Emergency Medicine and Anaesthetics. Simon has UK and international training in the use of most of the major implant systems. He placed his first implant in 1989 and he has developed his specialist practice using titanium dental implants with up-to-date planning and surgical grafting techniques.
Simon is able to offer reassurance of optimal surgical care with intravenous sedation and pain control. He has a particular interest in the care and management of nervous or anxious patients.
Patient consultations
Your initial consultation is free of charge. The specialist will discuss with you the broad aspects of potential treatment and give you an idea of suitability, treatment time and costs. A second appointment may involve 3D X-ray investigation, photography and the making of study models for treatment planning. A written plan will then be produced detailing the surgical treatment, time and costs involved. Fee £120.
Main implant treatments and procedures offered
Implant placement and restoration
Single tooth to full arch reconstruciton
Bone grafting and augmentation
Sinus lift procedure
Block grafting
Ring grafting
Guided bone regeneration
Additional information
Intravenous sedation is available for surgical procedures.
Implant case referral policies, procedures and administration
Initial implant consultation is free.
A full written treatment plan is given to the patient and copied to the referring practitioner prior to treatment.
Full continuing care and implant monitoring is available.
Part payment and credit facilities available.