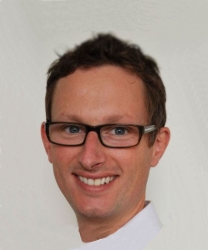 Tooth implant dentist Coleraine, County Londonderry, Northern Ireland
Dr Ben Goode
BChD Dip Con Sed
Ben has been placing and restoring dental implants since 2004 and has a wealth of experience in all aspects of dental implantology including bone grafting and sinus augmentation. He is passionate about the aesthetics of the restored dentition and believes in providing the highest quality in implant replacement teeth.
Patient consultations
Patients just beginning to think about dental implant treatment may find it helpful to attend a complimentary preliminary consultation with Ben Goode the implant dentist.  This appointment does not include a clinical examination and it only takes 15 minutes.  The discussion will help you consider the options for treating your dental problems and decide whether to proceed to a clinical consultation for implants.  The preliminary consultation is free of charge for visitors enquiring through this website.  Please use the button in the right hand column to request an appointment.
Once you have decided in principle that you want implant treatment, the next step is a clinical consultation.  This includes a comprehensive oral examination, and results in production of a fully-costed individual plan for your treatment.  The fee for the clinical assessment appointment and provision of your personal treatment plan is £70.  The cost of the treatment planning consultation is refunded when you proceed with the treatment.
Main implant treatments and procedures offered
Single/multiple tooth replacement
Full arch bridgework
Overdentures
Bone grafting
Sinus augmentation
IV sedation
Patient testimonials
"I just wanted to thank you all. I am very impressed with your dental surgery, treatment and staff."

Additional information
Dr Goode runs an anxiety management clinic which provides dentally phobic patients with the ideal solution for missing teeth.
Implant case referral policies, procedures and administration
The practice accepts referrals for all types of cases related to implants and can offer IV sedation to help alleviate any anxiety a patient may have. Support is also offered to practitioners wishing to restore dental implants for their own patients.
For further information and details of implant restoration training events please contact Laura on info@18dental.com