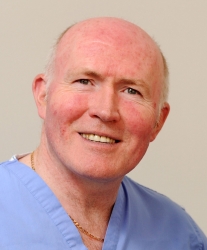 Tooth implant dentist Belfast, County Down, Northern Ireland
Dr Pearse Stinson
BA BDentSc MFGDP DipImpDent
Pearse Stinson has been involved in dental implantology for over 15 years and he has experience of several systems.  He completed the Implant Dentistry Diploma with the Faculty of General Dental Practice at the Royal College of Surgeons in 2008, having obtained his primary degree in 1981.  Dr Stinson has attended several dental implantology commercial courses and has completed the initial Hilt Tatum year programme.  He is a tutor on the SMART year programme in sedation for DCPs. 
Patient consultations
Patients just beginning to think about dental implant treatment may find it helpful to attend a complimentary preliminary consultation with Dr Stinson.  This appointment does not include a clinical examination and it only takes 15 minutes.  The discussion will help you consider the options for treating your dental problems and decide whether to proceed to a clinical consultation for implants.  The preliminary consultation is free of charge for visitors enquiring through this website.  Please use the button in the right hand column to request an appointment.
Once you have decided in principle that you want implant treatment, the next step is a clinical consultation.  Two 30 min appointments are the norm, and the fee charged is £115 for both, which includes all initial models and radiographs, photographs and a comprehensive treatment plan.
A welcome pack is available for all referrals which includes details of payment schemes.
Main implant treatments and procedures offered
Block bone grafting
Sinus grafting
Particulate grafting
Bone manipulation
Soft tissue surgery
Implant placement
Restorative procedures
Treatment planning and advice
Patient testimonials
"I am delighted with my new dental implant. I received first class treatment from the initial consultation to completion. As a nervous patient I was kept informed and reassured throughout the whole process. Having gone through root fillings in the past, I found that having an implant was less stressful and produced a more satisfactory result. I would have no hesitation in recommending this treatment and the wonderful team at Beechview Dental."
"I'm just so pleased at not having to wear that denture. My confidence is back, and I'm more than happy to recommend the team at Beechview."
Additional information
The practice always has team members experienced in the field to hand. It also has a full-time hygienist. One-to-one mentoring is available for colleagues also.
Implant case referral policies, procedures and administration
Referrals are welcome from professional colleagues and members of the public for case planning, implant placement, restoration and associated surgeries, Referring dentists are welcome to assist at any stage, and may specify the point at which they wish to resume care of the patient or take over the restorative phase.
Treatments may be offered at the referring dentist's surgery where appropriate. It is policy to ensure the patient remains with the referring dentist, however, Pearse will remain available for further advice and assistance.