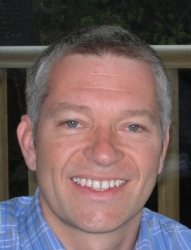 Tooth implant dentist Belfast, County Down, Northern Ireland
Dr Bruce Guild
BDS (Edin)
Both Bruce and Heidi began their implant training with Cemal Ucer in Trafford in 2000. Since then they have gradually furthered their training, knowledge and surgical skills in implant dentistry on their own patients in general dental practice. This has allowed them the opportunity to audit the techniques that work well and those that work less well over a long review period. More recently the scope of treatment has extended to include lateral window sinus grafting. The chairside support team have all undertaken the necessary implant training courses and help to deliver a smooth-running procedure, giving our patients tremendous confidence.
Patient consultations
Patients just beginning to think about dental implant treatment may find it helpful to attend a complimentary preliminary consultation with Dr Guild.  This appointment does not include a clinical examination and it only takes 15 minutes.  The discussion will help you consider the options for treating your dental problems and decide whether to proceed to a clinical consultation for implants.  The preliminary consultation is free of charge for visitors enquiring through this website.  Please use the button in the right hand column to request an appointment.
Once you have decided in principle that you want implant treatment, the next step is a clinical consultation.  This includes a comprehensive oral examination, and results in production of a fully-costed individual plan for your treatment.  The fee for the clinical assessment appointment and provision of your personal treatment plan is £ 90  including X-rays.  The cost of the treatment planning consultation is refunded when you proceed with the treatment.
Main implant treatments and procedures offered
Implant placement
Implant restoration
Guided bone regeneration
Osteotomy sinus grafting
Lateral window sinus grafting
CT scan planning
Patient testimonials
"I have found Bruce Guild to be a highly professional dentist, with a pleasant 'chair side' manner.  He seeks to explain thoroughly his reasons for recommended treatments and what the procedure entails at every stage – a 'no surprises' approach, which I have found very reassuring. I have complete confidence in this highly professional, responsive and friendly practice."
"Bruce Guild has proven to be an excellent professional and has carried out major work in a superb manner. Bruce has consummate confidence building skills and his expertise in unquestionable."
Additional information
Dr Heidi Guild is a partner at The Guild Practice. Heidi is involved in much of the implant treatment that is undertaken here. Heidi has also been involved in implant dentistry since 2000. Her experience is well founded and she is constantly broadening her abilities in implantology for her patients' benefit.