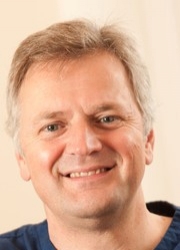 Tooth implant dentist Cardiff, Glamorgan, Wales
Dr N C A Claydon
BDS MScD PhD
Nick qualified from UWCM in 1986 and has been placing implants since 1994. He is a GDC accredited specialist in Periodontology having completed his Masters degree in 1995 and his PhD in 2000. He is a Clinical Research Fellow at the University of Bristol and is involved with the teaching of Periodontology and Implantology at undergraduate and postgraduate level. He is a mentor for dentists placing implants and is also a member of the Association of Dental Implantology.
Patient consultations
Patients just beginning to think about dental implant treatment may find it helpful to attend a complimentary preliminary consultation with Rhiwbina Dental at The Pines. The initial appointment does not include a clinical examination and it only takes 15 minutes.  The discussion will help you consider the options for treating your dental problems and decide whether to proceed to a clinical consultation for implants.  The preliminary consultation is free of charge for visitors enquiring through this website.  Please use the button in the right hand column to request an appointment.
Once you have decided in principle that you want implant treatment, the next step is a clinical consultation.  This includes a comprehensive oral examination, and results in production of a fully-costed individual plan for your treatment.  The fee for the clinical assessment appointment and provision of your personal treatment plan is £100 including  X-rays/CT scans.  The cost of the treatment planning consultation is refunded when you proceed with the treatment.
Main implant treatments and procedures offered
Comprehensive treatment planning and laboratory support
CT scanning and Simplant analysis
Graft procedures using xenografts and/or block bone grafts
Sinus lifts using Piezo surgery
Soft tissue grafts
Implant placement
Implant restoration
Surgery only cases with guidance for the restorative phase
CAD/CAM restorations
Mentoring
Additional information
Credit facilities and easy payment plans are available to facilitate treatment.
Implant case referral policies, procedures and administration
The practice is pleased to accept referrals from colleagues by telephone, letter, fax or email.  Self referrals are encouraged, particularly those resulting from personal recommendation. The initial appointment fee of £100 is refundable upon completion of treatment. Patients are treated to the specification of the referring dentist and are always returned for continuing care.