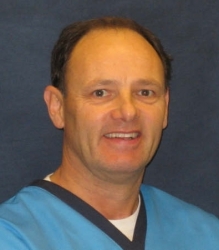 Tooth implant dentist Newport, Gwent, Wales
Dr Mark Robotham
BDS MSC Implant Dentistry
Dr Mark Robotham is an experienced oral surgeon with a special interest in implant dentistry. He has been placing dental implants since 1993.  Mark completed an MSc in Implant Dentistry at Warwick University in 2006.  Dr Robotham is a registered representative with the Health Inspectorate Wales and is a qualified advanced life support provider.  He is a member of the Association of Dental Implantology (UK) and the European Association of Osseointegration. Mark qualified at King's College Hospital London in 1978. 
Patient consultations
Patients just beginning to think about dental implant treatment may find it helpful to attend a complimentary preliminary consultation with one of the implant team.  This appointment does not include a clinical examination and it only takes 15 minutes.  The discussion will help you consider the options for treating your dental problems and decide whether to proceed to a clinical consultation for implants.  The preliminary consultation is free of charge for visitors enquiring through this website.  Please use the button in the right hand column to request an appointment.
Once you have decided in principle that you want implant treatment, the next step is a clinical consultation.  This includes a comprehensive oral examination, and results in production of a fully-costed individual plan for your treatment.  The fee for the clinical assessment appointment and provision of your personal treatment plan is £130 including X-rays/CT scans.  The cost of the treatment planning consultation is refunded when you proceed with the treatment.
Main implant treatments and procedures offered
Surgical placement of implants in all clinical situations
Direct and indirect placement
Restoration of implants
Simple bone augmentation
Internal sinus augmentation
Lateral sinus augmentation
Major bone grafting
Patient testimonials
"Following the breakdown of two upper teeth I was faced with the prospect of visible spaces.  All options were explained  to me and I decided on the implant route. The whole process was more straightforward than I had feared.  Mark and his excellent team made the whole process seem like routine treatment."
"Mark Robotham has carried out implant surgery for me on four separate occasions over the past seven years and I cannot speak too highly of his expertise and professionalism.He and his team ensured that on each occasion the surgery was carried out in a reassuring and considerate manner, with every step of the process clearly explained".
Additional information
Kensington Court Clinic provides intravenous sedation and general anaesthesia services. Consultant oral and maxillofacial colleagues are available to provide major bone grafting procedures, including block grafts. 
Dr Robotham also visits GDP practices in Cwmbran, Llanelli, Wantage and Worcester and the referral practice in Kidderminster to place dental implants.
Joining Dr Robotham at Kensington Court Clinic is University of Bristol graduate Dr James Colcombe (GDC No 153579), who places dental implants and offers many other treatments.  Follow the link to book a free initial consultation with Dr Colcombe:  https://www.click4teeth.com/implant-dentist-dr-james-colcombe/
Implant case referral policies, procedures and administration
Referrals are accepted from general dental practitioners for all types of dental implant treatment.  Self referrals are also welcome. Patients are treated only for the clinical situation for which they have been referred . Once treatment is complete patients are returned to their own dentist for continuing care.   Referrals are accepted for complete treatment or surgical treatment only, allowing the GDP to restore.