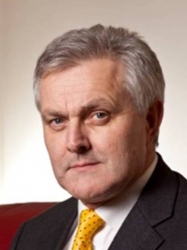 Tooth implant dentist Harrogate, North Yorkshire
Dr Steve Byfield
BDS (Lond) MFGDP RCS (UK) FICD
Dr Steve Byfield has over twenty years experience in implant and restorative dentistry.  His philosophy is to provide patients with high quality care and to build close working relationships with dental professionals.  During his career Steve has been a national board member of the Faculty of General Dental Practice, the Association of Dental Implantology (UK) and the British Dental Health Foundation.  Dr Byfield graduated in 1981.
Patient consultations
Patients just beginning to think about dental implant treatment may find it helpful to attend a complimentary preliminary consultation, including radiographs, at the Raglan Suite.  The discussion will help you consider the options for treating your dental problems.  Please use the button in the right hand column to request an appointment.
Main implant treatments and procedures offered
Single tooth implants
Multiple tooth implants
Full arch implant-supported bridgework
Full mouth implant-supported bridge work
Same day teeth
Guided bone regeneration
Onlay bone grafting
Internal sinus bone grafting
Open lateral wall sinus bone grafting
Management of complications
Patient testimonials
"I had a lot of work done that involved bone grafts and multiple implants, as well as extensive conservation. During the whole of the treatment period I was never left in a condition that caused any real difficulty."
"I wish to express my immense satisfaction with the care given to me by Dr Byfield. He has a manner that makes one feel instantly at ease. I had a great amount of reconstructive care and felt I was treated by an extremely knowledgeable professional."
Additional information
The Raglan Suite offers periodontic and endodontic services as well as cosmetic and restorative dentistry.
Implant case referral policies, procedures and administration
We welcome referrals for all types of dental implant treatment.  All referrals are acknowledged and general dental practitioners are kept closely informed of patients' progress.  Referrals are accepted for complete treatment or surgical treatment only allowing the GDP to restore.  The practice does not provide general dentistry