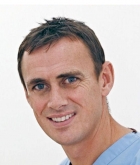 Tooth implant dentist , Chelmsford, Essex
Dr Andrew Moore
BDS DipImpDent RCS (Eng)
Dr Andrew Moore is committed to postgraduate education in the field of implant dentistry. He presents a twice-yearly advanced surgical course, which helps other implant dentists tackle more difficult cases. Dr Moore was one of the first dentists to be awarded the Diploma in Implant Dentistry by the Royal College of Surgeons Faculty of General Dental Practitioners. He first qualified in 1988, and his postgraduate qualifications in implantology include a one-year course at The Centre for Reconstructive Surgery, Harley Street, London.
Patient consultations
Patients just beginning to think about dental implant treatment may find it helpful to attend a complimentary preliminary consultation with Dr Moore.  This appointment does not include a clinical examination and it only takes 15 minutes.  The discussion will help you consider the options for treating your dental problems and decide whether to proceed to a clinical consultation for implants.  The preliminary consultation is free of charge for visitors enquiring through this website.  Please use the button in the right hand column to request an appointment.
Once you have decided in principle that you want implant treatment, the next step is a clinical consultation.  This includes a comprehensive oral examination, and results in production of a fully-costed individual plan for your treatment.  The fee for the clinical assessment appointment and provision of your personal treatment plan is £ 90, including X-rays.  
Main implant treatments and procedures offered
Immediate implants
Sinus augmentation
Bone grafting
Conventional implants
Full arch restorations
Over dentures
One to one mentoring
Periodontal referrals
Patient testimonials
"I was so impressed; not only with the implant, which looks so natural, but also the care, dedication and service I received.My own dentist was only able to offer me a denture which I was adamant I didn't want."
"The procedure was surprisingly easy; more comfortable than having the teeth removed. The finished implants and crowns look and feel like my own teeth, only better."
Additional information
The latest technology available at the practice includes a CT scanner, which is invaluable in implant treatment. The digital scanner provides incredibly precise 3D images in a fraction of the time of conventional x-rays, and with significantly less radiation.  The scanner can be hired by other dentists for their cases.
Implant case referral policies, procedures and administration
We accept referrals for all types of cases related to implants. The patient will be returned to the referring practice at the end of treatment. We can also offer support to any practitioners wishing to restore dental implants or start placing their own.
General dental practitioners are encouraged to undertake the restoration phase of the implant treatment for their own patients in straightforward referred cases.  FREE training in the restoration of simple dental implant cases is available at evening events or on a one-to-one basis at the practice by arrangement with Dr Moore.  To enquire about starting to restore dental implant cases for your patients, please contact 08443 87 87 88 or e-mail implant@advancedentalclinic.com