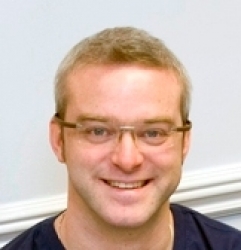 Tooth implant dentist , Romford, Essex
Dr Andrew Fennell
BDS
Dr Andrew Fennell has been involved in implant dentistry for over 10 years. His particular focus in recent years has been on providing immediate implant teeth.  In many cases a missing tooth or even a whole jaw of missing or failing teeth can be replaced in a single session. 
Andrew is the principal dentist and practice owner of Winning Smiles.  He believes that implant dentistry is the only viable solution to replacing missing teeth and has invested in intra-oral immediate implant placement technology to make fixed replacement teeth more available to a wider set of people.
Patient consultations
Initial consultations with the implantologist  are free of charge at Winning Smiles. The implantologist will have an informal chat with you and discuss:
Whether implants are possible for you
Whether implants are appropriate treatment for you
A broad outline of costs
An idea of how long the treatment may take
Occasionally a small X-ray will be taken to preview bone height – there is no charge for these.
Once the free consultation is complete and if you decide to go ahead with your treatment at Winning Smiles the next step would be to book your Implant Assessment and CT scan (where necessary). We have a CT scanner in-house. 
Assessment fee from £150
CT scan (if required) £150
The assessment allows us to check bone volume and exact size, plan the treatment and gather the information required for us to write your treatment proposal/report. The assessment includes:
Any conventional (2D) X-rays
Impressions for models where necessary
Photographs
Treatment proposal/report
CT scan where necessary
Main implant treatments and procedures offered
Single tooth implants
Immediate single tooth implants
Implant bridges (porcelain or acrylic)
Immediate implant bridges
Same day teeth/teeth in a day
Implant dentures
My implant teeth
Having implants has completely changed my life
".......Badly fitted dentures, remaining teeth in a very bad state.
After an initial consultation with Andrew Fennell at Winning Smiles I then realised what an extremely bad condition my teeth were in. After a CT scan I was advised that dental implants to replace all of my teeth was the best solution.
Throughout the whole treatment I was kept fully informed of every detail. The skill and expertise of Andrew and all his staff made the whole experience very reassuring and I felt confident of the outcome.
Since having the implants in 2009 it has completely changed my life, It has given me more confidence. People are still commenting on my teeth and cannot believe they are implants as they look so real."
John Beaumont, Billericay, Essex
Patient testimonials
"I cannot thank Andrew and his team enough for their highly supportive and professional treatment during my dental implant surgery. Andrew is clearly a highly skilled dental practitioner and he put me at ease straight away.  My case was not straightforward and other dentists were not able to help – Winning Smiles COULD!
I am so impressed by the quality of Andrew's dentistry and his eye for detail. I HIGHLY recommend this dentist and love my new implants!"
"After searching for a new dentist I was delighted to find Winning Smiles, impressed by the service and pleased with the affordable and comprehensive dental plan.  The hygienists and dentists offer an excellent level of treatment using the latest technology. In a complex case concerning implants it was brilliant to have a team who worked out a schedule of treatment, kept me informed of progress and were able to accommodate a busy working life."
Additional information
The Winning Smiles clinic also offer the following services:
Adult orthodontics
Tooth straightening using a variety of discreet brace systems
Pay monthly plans
Implant case referral policies, procedures and administration
We hold 'Implant Restorative Training' evenings to introduce general dentists to implants at the restorative end: ie impression techniques, choosing and placing abutments, use of sulcus formers etc.  Our 'Implant Restorative Mentoring Programme' provides ongoing support for dentists to gain the confidence to really get going with these new concepts.  The programme is open to all our referring dentists and is completely free of charge. For more details contact Andrew directly on afennell@winning-smiles.co.uk