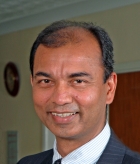 Tooth implant dentist South Woodham Ferrers, Chelmsford, Essex
Dr T C Patel
BDS, DGDP, RCS (Eng), DRDP (Lon) DipImpDent, RCS (Eng), CAPP.Dent (RCS), FFGDP (UK), FICD
T.C Patel has 20 years experience of placing implants with 32 years of experience in the dental profession and was awarded Fellowship of the Faculty of General Dental Practitioners and Fellowship of the International College of Dentists for his contribution and continual commitment to on going postgraduate education.
His interests are Restorative Dentistry, Smile Design Cosmetic Dentistry, Implantology and Orthodontics. In 2007 he achieved the Advanced Certificate in Diploma in Dental Implantology from the Royal College of Surgeons of England and has been a Course tutor on the Implant Diploma Course since. He was the Senior Clinical Assistant in Orthodontics at Southend General Hospital for 25 years.
He has been a VT Trainer since 2000 and is a member of the Clinical Performance Committee and the Chairman of South East Essex Orthodontic Study Group. Currently the President of the Essex Branch of the BDA (2015-2016) and LDC Committee member. Also member of the International College of Dentists, British Academy of Cosmetic Dentistry and Association of Implantologists and a Examiner on the both the FFGDP (UK) and MJDF examinations.
Patient consultations
All Initial implant consultations at Brickfields are charged at £100. Occasionally, in complex cases, a second consultation is required to review records that have taken. If the treatment proposed is taken up by the patient, the second consultation costs are waived.  Any radiographs or study casts taken are charged separately.  A full report of the treatment proposed and necessary consent forms will then be prepared and sent to the patient for approval.
Main implant treatments and procedures offered
Single units, Multiple units
Immediate and delayed placement
Implant retained bridges
Full arch restorations
Implant retained overdentures
Bone grafts
Sinus lifts
Patient testimonials
" Having had problems with my front teeth since the age of seven when I fell and broke them, I had reached the point when the only acceptable solution to my problem was to have implants. I have to say that the care and attention I received was second to none and I am so very pleased with the result. I can now smile again with confidence, the consideration and professional competence shown by TC and his team is something for which I am truly grateful."
Additional information
We can also facilitate CT Scans with Simplant Planner software where necessary.
If you already restore implants in house we would be happy to offer a placement only service. Additionally, if you would like to follow a case through treatment we would be happy for you to attend any stage of the treatment.
We have our own CT Scanner and are happy to take referrals for scans alone.
Implant case referral policies, procedures and administration
Please kindly refer patients with formal letter and any recent radiographs. Larger cases will require two visits.
Patients referred to Brickfields Dental Care will only receive the treatment they have been referred for and will be returned to your care following treatment.
You will receive a post treatment case summary including details of the procedures employed, components used and batch numbers for your record keeping.