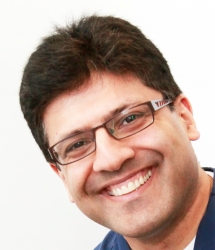 Tooth implant dentist Biggleswade, Bedfordshire
Dr Raj Ahlowalia
BDS LDSRCS Eng
Dr Raj Ahlowalia was formerly a visiting faculty tutor and mentor for both the Spear postgraduate dental education centre in Phoenix, Arizona and the Pankey Institute for Advanced Dental Education in Miami, Florida, the only non-American dentist to have held this distinction at the time.
He is an internationally respected lecturer in the field of comprehensive functional aesthetic restorative dentistry.  For several years Dr Ahlowalia was the featured dental specialist for the Extreme Makeover television show.
Patient consultations
Patients just beginning to think about dental implant treatment may find it helpful to attend a complimentary preliminary consultation with Dr Ahlowalia.  This discussion will help you consider the options for treating your dental problems and decide whether to proceed with implants. 
The preliminary consultation is free of charge for visitors enquiring through this website.  Please use the button in the right hand column to request an appointment.
Once you have decided in principle that you want implant treatment, the next step is to undergo comprehensive oral examinations & x-rays which will help us prepare an ideal plan for your treatment. 
Main implant treatments and procedures offered
Implant placement & restoration
Bone grafting
Sinus Lifts
Patient testimonials
"Having the work done has had such a huge positive impact on my life - and I know I made the right decision. I cannot begin to thank you enough - you have changed my life for the better - I feel like I have won the lottery."
"You have restored my confidence, thank you."
Implant case referral policies, procedures and administration
We accept referrals for all types of cases related to implants. The patient will be returned to the referring practice at the end of treatment. We can also offer support to any practitioners wishing to restore dental implants or start placing their own.
General dental practitioners are encouraged to undertake the restoration phase of the implant treatment for their own patients in straightforward referred cases. 
FREE training in the restoration of simple dental implant cases is available at our implant restoration events or on a one-to-one basis at the practice by arrangement with Dr Ahlowalia. 
To enquire about starting to restore dental implant cases for your patients, please contact 01767 313896 or e-mail  info@victoriaplacedental.com