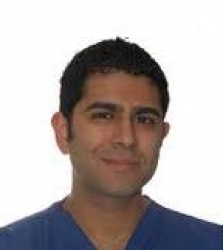 Tooth implant dentist , Chelmsford, Essex
Dr Hiten Pabari
BDS (Lond) MFDS RCS (Eng) MRD RCS Specialist Prosthodontist
Dr Hiten Pabari is an award winning dentist with a great deal of experience and knowledge in implant dentistry.  He undertook specialist training at Guy's Hospital, London whilst working as an oral surgeon at King's College Hospital.  Hiten was the youngest Associate Specialist in Restorative Dentistry at St George's Hospital, London.   He has worked for and trained under world-renowned implant and restorative clinicians and currently holds the position of specialist clinical teacher in restorative dentistry at Guy's Hospital.  Dr Pabari has completed his Master of Clinical Dentistry in Prosthodontics and gained the prestigious MRD from the Royal College of Surgeons (Edinburgh).  Hiten is a member of the Royal College of Surgeons Edinburgh and the Association of Dental Implantology UK.  He graduated  from Guy's, King's and St Thomas' Dental Institute in 2003.
Patient consultations
Patients just beginning to think about dental implant treatment may find it helpful to attend a complimentary preliminary consultation with our senior treatment co-ordinator.  This appointment does not include a clinical examination and it only takes 15 minutes.  The discussion will help you consider the options for treating your dental problems and decide whether to proceed to a clinical consultation for implants.  The preliminary consultation is free of charge for visitors enquiring through this website.  Please use the button in the right hand column to request an appointment.
Once you have decided in principle that you want implant treatment, the next step is a clinical consultation.  This includes a comprehensive oral examination, and results in production of a fully-costed individual plan for your treatment.  The fee for the clinical assessment appointment and provision of your personal treatment plan is £90 including X-rays. 
Main implant treatments and procedures offered
Single implants
Multiple implants
Sinus grafting
Bone grafting
Same day teeth
Full arch restoration
Full mouth rehabilitation
Additional information
Blue Sky Dental offers specialist endodontic, periodontic  and cosmetic treatment.  The practice provides intravenous sedation and nervous patients are welcomed.
Implant case referral policies, procedures and administration
We accept referrals for all types of dental implant treatment. Once treatment is complete patients are returned to the referring dentist for continuing care.  General dental practitioners are encouraged to undertake the restoration phase of the implant treatment for their own patients in straightforward referred cases.   We can offer support to any practitioners wishing to restore dental implants or start placing their own.