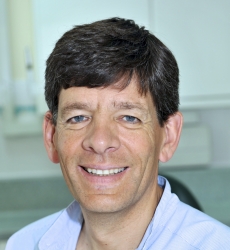 Tooth implant dentist Wimborne, Dorset
Dr Graham Browning
BDS(Lond) LDS FDS RCS(Eng) MSC(Lond) MRD(Eng)
Dr Graham Browning developed an interest in implant placement and complex restorative treatment whilst at Guy's Hospital where he studied for a two year Masters degree in Conservation.  He has had a referral practice for implants, crown and bridgework since 1996.  Graham is also a Member in Restorative Dentistry and was admitted onto the Specialist list in Prosthodontics in 2000.
Patient consultations
Patients just beginning to think about dental implant treatment may find it helpful to attend a complementary preliminary consultation with one of our implant treatment co-ordinators. This appointment does not include a clinical examination and it only takes 15 minutes. The discussion will help you consider the options for treating your dental problems and decide whether to proceed to a clinical consultation for implants. The preliminary consultation is free of charge for visitors enquiring through this website. Please use the button in the right hand column to request an appointment.
Once you have decided in principle that you want implant treatment, the next step is a clinical consultation. This includes a comprehensive oral examination, and results in production of a fully-costed individual plan for your treatment. The fee for the clinical assessment appointment and provision of your personal treatment plan is £100 including X-rays.
Main implant treatments and procedures offered
Full mouth reconstruction
Single tooth implants
Bone grafting
Sinus lifts
Ridge augmentation
Soft tissue grafting
Implant-supported full or partial dentures, bridges or crowns
Smile design
Patient testimonials
"I was very nervous of having implants but there was no need to be. Having the implants placed was painless and the care and attention I received at South Coast Dental Specialists was second to none. My mouth has never felt so good."
Implant case referral policies, procedures and administration
Please phone to request a referral pack or use the case referral form on this website.  Referrals are accepted by email or post.  General dental practitioners are encouraged to undertake the restoration phase of the implant treatment for their own patients in straightforward referred cases.
FREE training in the restoration of simple dental implant cases is available.  To enquire about starting to restore dental implant cases for your patients, please contact the practice.
Regular mentoring sessions can be arranged.