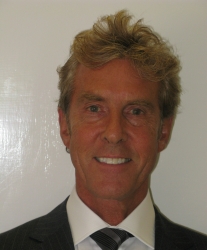 Tooth implant dentist Petersfield, Hampshire
Dr Ian Hallam
MBE BDS
Ian Hallam is a cosmetic reconstructive dental surgeon and owner of Meon Dental. Ian has undergone extensive postgraduate training in dental implants and has a wide range of experience with several implant systems. He has faced all types of implant restorations from single to full mouth reconstruction.
Ian also offers facial aesthetic treatments and was the winner of the 2011 Smile Award for facial aesthetics. He is a full member of the British Academy of Cosmetic Dentistry, the Association of Dental Implantology and the International Academy of Advanced Facial Aesthetics. Ian qualified in 1971.
Patient consultations
Patients just beginning to think about dental implant treatment may find it helpful to attend a complementary preliminary consultation with Dr Hallam. This appointment does not include a clinical examination and it only takes 15 minutes. The discussion will help you consider the options for treating your dental problems and decide whether to proceed to a clinical consultation for implants.  The preliminary consultation is free of charge for visitors enquiring through this website.  Please use the button in the right hand column to request an appointment.
Once you have decided in principle that you want implant treatment, the next step is a clinical consultation.  This includes a comprehensive oral examination, and results in production of a fully-costed individual plan for your treatment. The fee for the clinical assessment appointment and provision of your personal treatment plan is £62, excluding X-rays and study models.
Main implant treatments and procedures offered
Single and multiple implant restorations
Associated bone augmentation procedures where required
Implant retained over-dentures
Sedation for a pain-free experience
Implant referral service
Mentoring for referring dentists to restore implants
Patient testimonials
"I feel quite delighted with the ease with which I do something as simple as chew my food. Those last few implants were the key to gaining what I have been missing for some 45 years. Your meticulous work and attention to detail have given me what nature failed to deliver. A job well done by all involved....not cheap but worth every penny, thank you."
Implant case referral policies, procedures and administration
We work closely with practices referring implant cases to us and, whilst many are happy for us to carry out both the surgical and restorative treatments, we also encourage referring dentists to carry out the restorative stage, for which we offer a mentoring service. We see this service as an extension of the on-going care provided by dentists within their own practice.